Climate change could cause over 500,000 extra deaths in 2050
Climate change could cause over half a million extra deaths in 2050 from illnesses including cancer, heart disease and stroke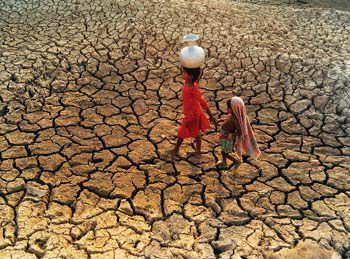 Climate change could cause over 500,000 extra deaths in 2050 from illnesses including cancer, heart disease and stroke, experts said on Wednesday.
Extreme weather events including floods and heat waves are severely impacting harvests and crop yields, and food availability could be cut by a third by 2050, according to a study published in The Lancet medical journal.
The result would see diets change significantly and would lead to a reduction of 99 calories available per person per day.
The impacts of climate change could also result in the consumption of fruit and vegetables being cut by 4 per cent, and the amount of red meat consumed dropping by 0.7 per cent, the study said.
Reduced consumption of fruit and vegetables has the potential to cause twice as many deaths as malnutrition by 2050, it said.
In a statement, Marco Springmann, the lead author of the study from the University of Oxford, said : "Even modest reductions in the availability of food per person could lead to changes in the energy content and composition of diets, and these changes will have major consequences for health,"
Climate change impacts could cause approximately 529,000 extra deaths in 2050, compared to a future without climate change in which increases in food availability and consumption could have prevented about 1.9 million deaths.
According to the study, cutting greenhouse gas emissions could have significant health benefits and reduce the number of climate-related deaths by between 29 per cent and 71 per cent.