Sustainable energy in Africa and the road to Durban
The spotlight is falling on Africa and this is a critical time for its future. With the 17th Conference of the Parties (COP 17) of the United Nations Framework Convention on Climate Change (UNFCCC) and 7th Conference and Meeting of Parties (CMP) to the Kyoto Protocol upon us, the African ministers for energy convened in Johannesburg, South Africa on September 15 and 16, 2011 to discuss the priorities in creating a sustainable energy system. This article summarises some of these priorities and the actions that need to be taken to create a sustainable energy system in Africa.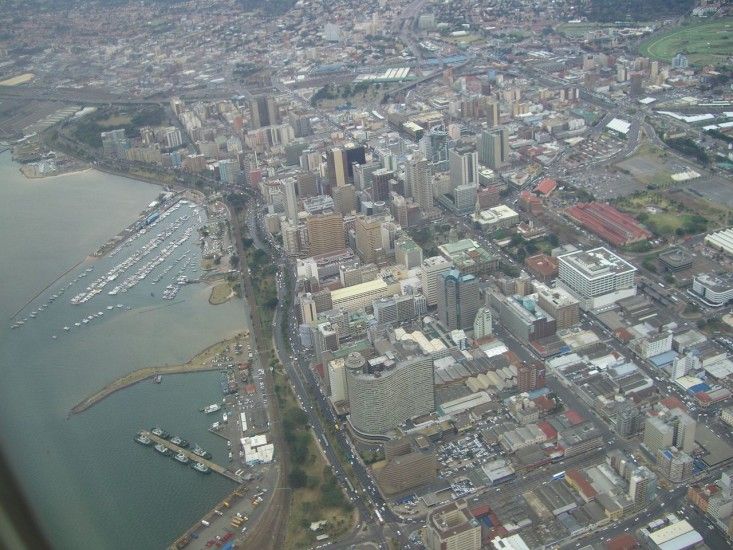 Sustainable Energy for All
The past few years have brought about sweeping changes in policy. For example, the Maputo declaration created the Conference of Energy Ministers of Africa (CEMA) in 2010, charged with taking continent-wide decisions on the energy future of the region. The declaration emphasised the importance of developing renewable sources of energy, including biomass, solar and wave power, and of the importance of the Millennium Development Goals, urging developed nations, multilateral financial and commercial institutions and the private sector to actively support sustainable development in Africa.
2012 has been declared the International Year of Sustainable Energy for All, which will offer a great chance to highlight opportunities for renewable energy in Africa; and so the South African Government welcomes the support of the UN in ensuring universal access to modern forms of energy for all by 2030, improving energy efficiency by 40 per cent by 2030, and doubling the global share of renewable energy by 2030. In aiming for this it must first be acknowledged that Africa has the lowest rate of access to modern energy among all continents, and that if no significant changes are made it is projected that more people will be without energy services in 2030 than now.
To quote some raw statistics, only 42 per cent of African citizens have access to electricity. In sub-Saharan Africa, just one in three people have access to reliable electricity – the lowest rate in the world. The entire power generation capacity of the continent stands at 124 GW, of which 30 GW is the total of sub-Saharan Africa (excluding South Africa). Not only is this energy not widely available, those that are connected to an energy supplier often have intermittent or unreliable supply.
Access to reliable, affordable and economical energy services is essential to reducing poverty and promoting equitable and sustainable social and economic development, and climate resilience, on the continent of Africa – while resource efficiency and green growth critically contribute to poverty reduction, job creation, green jobs, social development and a better environment.

Figure 1. World electrification rates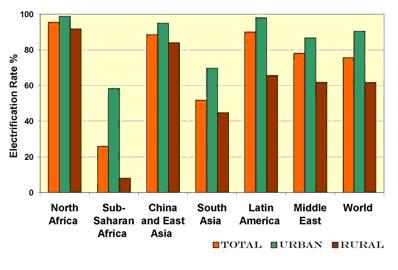 Figure 2. Energy access in Africa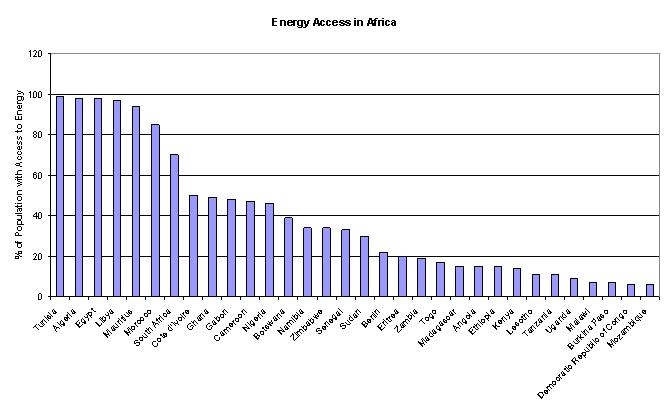 Priorities
To that end, what are the priorities for Africa and what should we focus on first? Access to energy needs to be improved. The focus should be on providing clean, modern and high quality energy, especially looking to reduce the reliance on solid biomass which is both bad for the environment and health due to the particulates produced. Energy security must also be improved, through up-scaling and better co-ordination.
Africa is especially vulnerable to the negative impacts of climate change, and as a result we need to prioritise the resilience of our communities, infrastructure and economies in the face of these impacts. Country specific adaptation measures are necessary and early warning and modelling need to be improved.
Clean energy must be given priority. Africa is full of renewable energy opportunities and will be able to greatly enhance its economic, social and environmental development using a diversity of clean energy sources.
We also recognise the importance of localising supply chains, allowing South African workers to benefit from speedy developments and gain a knowledge base in local communities rather than relying on foreign workers. In a broader sense, we need to build technology and innovation capacity through undertaking appropriate research and development (R&D), developing our skills base and facilitating technology transfer to ensure that technologies are needs-driven and appropriate for local conditions. Also, experience has shown how demand side management and energy efficiency programmes can reduce costs, improve access and international competitiveness, while simultaneously reducing environmental impacts.
Integrated planning is also important in a rapidly growing sector. The energy sector does not operate in isolation; infrastructure elements such as power lines, pipelines, water and transport are interdependent. Integrated planning is critical to the sustainability and further development of our economies and societies.
The path ahead
Identifying the problems is a relatively straightforward process. The next step is to decide what should be done in Africa. At the Johannesburg convention, we agreed to the following proposals as a plan of action:
Support for an expansion of generation capacity with emphasis on renewable projects. Private sector investment on large scale projects is to be encouraged, but with significant investment in project preparation so that environmental impacts can be considered. We urge the COP 17/CMP 7 to consider placing US$500 million as a corpus of grant funds to develop the next generation of national and regional generation projects, with emphasis on clean energy development. We also urge the support of large hydropower projects through inclusion in carbon market support.
Enhanced funding for policy and institutional development activities, which will result in improved efficiency and effectiveness. This measure will improve transmission and distribution efficiency; adopt a loss reduction strategy; upgrade metering, billing and collection systems; invest in needed assets and efficient commercial technology for the distribution network; and improve corporate governance and ensure non-interference in procurement, financial and commercial operations. We encourage the Durban COP 17/CMP 7 policy-makers to promote this through support for technology transfer and human development systems.
Energy planning and international co-operation: a sector-wide approach to scale up energy access has the potential to channel donor resources in a more sustained and cost-effective way. Given the scale of investments needed, a systematic and climate-friendly approach to planning and financing new investments is critical. Examples of this targeted approach should include grid extension in urban and rural areas where population density and distribution enables it to be cost-efficient; mini-grid and off-grid systems based on renewable energy technologies for dispersed populations; and low-cost home energy systems (e.g. solar, LED, geyser blankets, low flow showerheads, as well as efficient cook stoves) through development of markets for such products.
Regional trade and energy resource development: enhanced support from development partners for scaling up regional energy trade and development of clean and renewable energy resources.
The UNFCCC process has so far tended to prioritise the mitigation of emissions: we believe that adaptation to the negative impacts of climate change deserves balanced treatment. We call upon the COP 17/CMP 7 to ensure that this will be the case and that adaptation projects be included in the Green Climate Fund.
A mixture of solutions
In conclusion, improvement of adaptation measures is key to combating climate change in Africa, while in order to create a sustainable energy future we must look to create a modern integrated system, utilising the vast renewable resources the continent has to offer. However, much relies on the UNFCC and overseas investment to help facilitate this process, which, if implemented well, can lead to job creation and new skills for the African workforce. Universal access by 2030 is also a possibility, but an additional 512 million people, 460 million of them in the sub-Saharan region, need to be provided access to electricity to achieve this. It will require a mix of on-grid and off-grid solutions, a diverse range of energy sources, and co-operation not only from within Africa, but also from the international community, the private sector and NGOs.