ON DEMAND
Nature-Based Recovery: A path to a global green recovery
Can a nature-based solutions approach become an integral part of the global economic recovery?
About this webinar
WATCH ON DEMAND
Recorded on: Friday 5 June 2020
The pandemic has proven that our biggest global challenges cannot be seen or tackled in isolation, they are health, economic, social and environmental challenges all at once – and must be tackled systemically. On World Environment Day, Climate Action, Oatly and Capitals Coalition, explore how our natural world, biodiversity and conservation could hold the answers to a global green recovery. In our 'business as usual' scenario.
Discussion points included:
Delivering value for people, economies and nature through smarter policy and interventions
The role of nature-based solutions in creating a more resilient future
Smart policy and interventions for clean job creation
Accelerating ecosystem services as a tool for economic recover
Featured Speakers: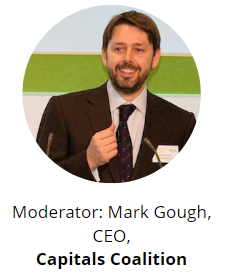 Oatly was founded back in the 1990s and is based on Swedish research from Lund University. The company's patented enzyme technology copies nature's own process and turns fiber rich oats into nutritional liquid food that is perfectly designed for humans. The Swedish company is dedicated to make it easy for people to turn what they eat and drink into personal moments of healthy joy without recklessly taxing the planet's resources in the process. Climate science is clearly pointing to the need to shift the food system to be more plant-based, and consumers are leading the way. In 2019 Oatly was recognized by Fast Company as one of the top ten most innovative companies in the world.

The Capitals Coalition is a global collaboration transforming the way decisions are made by including the value provided by nature, people and society.

The Coalition is a collaboration of over 370 of the world's leading organizations from business, accountancy, science and academia, membership organizations, standard setting, finance, policy and civil society, who have united in a pre-competitive space because they believe that the Coalition is a vehicle that can drive the global conversation and deliver desperately needed systemic change by bringing nature and people into the heart of decision making.
Enter your details below and get access to view the whole digital event On-Demand.