'We are Still in Coalition' launched the America's Pledge report during COP23
During COP23 in Bonn, America's Pledge presented the official report on US climate action, analysing how US states, cities, businesses, citizens, and universities can support the Paris Agreement even without federal action.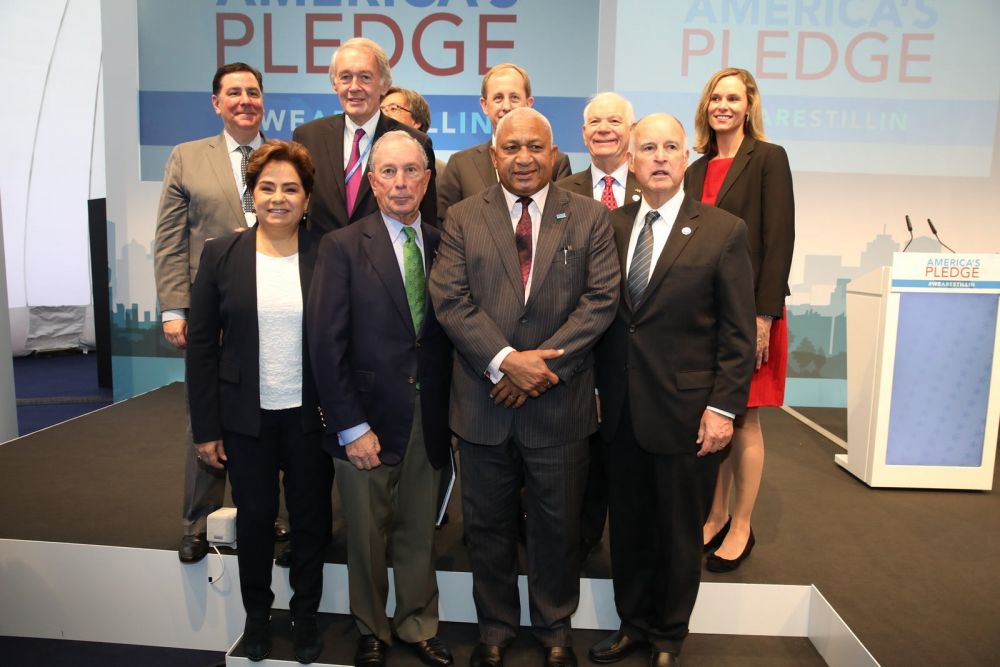 During COP23 in Bonn, America's Pledge presented the official report on US climate action, analysing how US states, cities, businesses, citizens, and universities can support the Paris Agreement even without federal action.
The report constitutes the first communication of the initiative to the international community addressing the scope and scale of non-federal climate action in the US following the "We Are Still In" declaration, with more than 2,300 signatories to date.
The Phase 1 report examines current non-federal climate policies and actions and identifies promising areas to scale up action for non-federal actors to deepen and strengthen their role in meeting the US commitment to reduce emissions by 26-28 percent below 2005 levels by 2025.
Sector-based analysis includes the power sector, building efficiency, transport, carbon pricing.
The Phase 2 report will aggregate and quantify the full range of potential.
As analysed by the report, governors, mayors, and businesses have significantly shaped the US climate agenda, especially in parallel to federal action during the Obama Administration.
Under a long history of "cooperative federalism", where energy, transportation, and land use decisions are made on a local level, coalitions like "Under 2 Coalition" for states, cities and regions and the "We Mean Business" initiative for companies have shaped climate policies.
Electricity and transportation are the more advanced sectors that have contributed towards the low-carbon transition and have offered the most opportunities to date.
In electricity, regulatory innovation and renewable portfolio standards set by states and tribal nations, renewable energy targets set by cities and renewable energy procurement by large corporations and companies have been among the main driving forces of the energy transition.
As of October 2017, 20 states and 110 cities have enacted GHG targets, and 1,361 businesses representing $25 trillion of the US economy and 587 US universities with a total enrolment of 5.2 million students have voluntarily adopted targets.
The transportation sector has shown early signals of adaptation too, as automakers keep establishing ambitious plans for electrification of their future fleets and ten states so far have Zero Emission Vehicle (ZEV) programmes to encourage the deployment of electric vehicles.
In tandem with the continued decarbonisation of the power sector, transport electrification will catalyse further climate progress and will offer many market trends in the years to come.
However, in the wake of federal policies aimed to halt the climate progress, such as increased support for baseload coal-fired plants and tariffs on solar panels, non-federal climate leadership will need to increase policy interventions to maintain the momentum.
Examples include encouraging the adoption of EVs through ZEV mandates and EV purchase consortiums, enhancing buildings performance, advancing renewable energy through mandates and incentives, and aggressively phasing out and addressing non-CO2 pollutants, particularly methane.
Michael Bloomberg, the United Nations Secretary-General's Special Envoy for Cities and Climate Change, said: "The group of American cities, states, and businesses who remain committed to the Paris Agreement represents a bigger economy than any nation outside the U.S. and China".
"Together they are helping deliver on the promise of the agreement and ensuring the U.S. remains a global leader in the fight against climate change", he added.
Patricia Espinosa, Executive Secretary of UN Climate change said: "If the challenge of climate change is to be solved and the opportunities of a low carbon transition harvested we need all sectors of society in all nations fully on board".
She added: "Cities, states, regions, and territories have, along with business and civil society, been an inspiration before, during, at and following Paris".
World Resources Institute and Rocky Mountain Institute jointly led the research with CDP (formerly known as Carbon Disclosure Project) contributing to the methodology and to data acquisition.
You can access the full 167-page "America's Pledge Phase 1 report: States, Cities, and Businesses in the United States Are Stepping Up on Climate Action" report here.