New York City Divestment from Fossil Fuel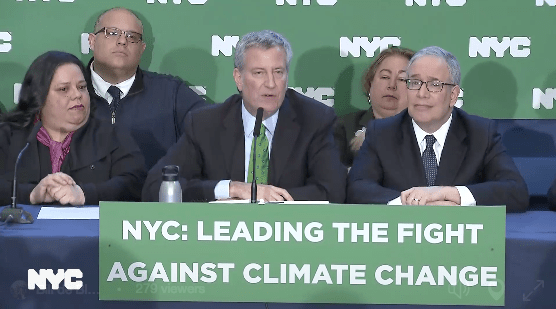 New York Mayor Bill de Blasio aims to divest the city's $5 billion stake, in over 190 fossil fuel companies, within half a decade.
"New York City is standing up for future generations by becoming the first major US city to divest our pension funds from fossil fuels" said Mayor de Blasio.
In addition to divestment, Blasio is also formulating legal action against five major fossil fuel firms (BP, Exxon, Mobil, Chevron, ConocoPhillips and Shell) for their complicit role in accelerating climate change.
"We're bringing the fight against climate change straight to the fossil fuel companies that knew its effects and intentionally misled the public to protect their profits." says de Blasio.
De Blasio acknowledges that climate change is "perhaps the toughest challenge New York City will face in the coming decades", with threats of rising sea levels, adverse weather and the damaging floods.
Diverted funds would be redirected to improve coastal, water and sewage infrastructure, with the goal of making the city more resilient to climate change. This is in response to past adverse disasters, most notably Hurricane Sandy in 2012, which resulted 53 fatalities and $32 billion USD in infrastructural and financial damage/loss.
Investment towards green technology is also a key focus of Blasio's administration, with $2.7 billion invested in environmental projects in the city. With continual investment in transforming New York City into a low-carbon city, these initiatives have payed dividends, as seen in the solar energy capacity, which increased by six fold since 2013.
De Blasio stresses the importance in New York City divesting from fossil fuel, stating: "New York City is a coastal city, and we know that taking action on climate change is not optional."
Source: Erik McGregor, Pacific Press Agency
Interested in learning more about sustainable finance? Join us in New York for the Sustainable Investment Forum North America on the 25th September 2019 for the latest insights from asset owners and managers, banks, development institutions, policymakers, think tanks and NGOs looking to drive the sustainability agenda.
Click here for further information.