How cleaner air can help save the climate – in the short and medium term
We live in a world that is increasingly urban. Cities have always attracted people looking for opportunity, education or a better life. They have also become the biggest producers of greenhouse gases and air pollution. This is becoming a serious public health threat – air pollution globally is now responsible for up to 7 million premature deaths globally each year, according to the World Health Organization. In many cities, breathing has become dangerous.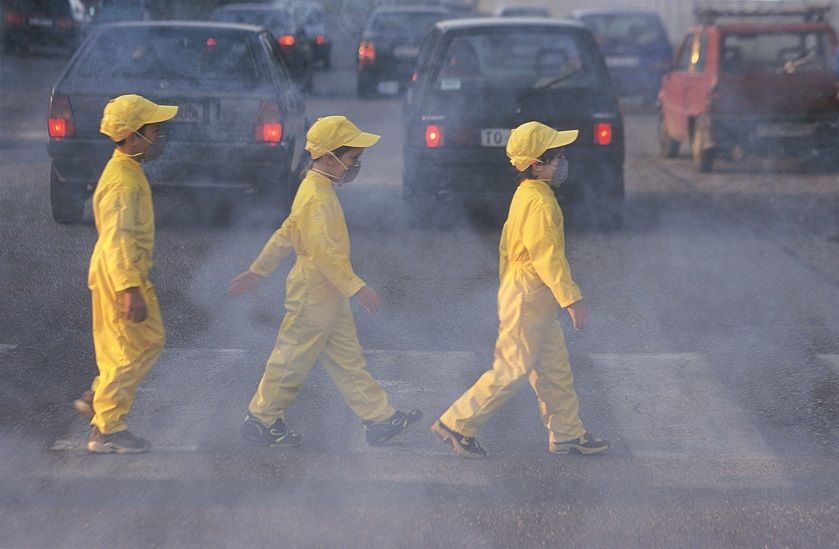 Like many other cities Paris and New Delhi recently experimented with no-car days and saw a drop in air pollution of up to 40 per cent and 60 per cent respectively. Paris's mayor is going one step further with plans to ban all diesel vehicles from the city by 2020. Santiago de Chile and Mexico City have both improved their air quality since the historically smoggy 1980s – and are still working on rapidly getting pollution under control based on health emergencies.
There is another reason for fast action. The four main short-lived climate pollutants (SLCPs) – black carbon, methane, ground level ozone and hydrofluorocarbons (HFCs) – are also powerful climate forcers. These pollutants stay in the atmosphere for only a few days or up to a decade (see Figure 1). Studies have shown that abatement of these SLCPs through known technologies and control measures by 2030 could reduce warming by up to 0.6 degrees C by 2050. Coupled with deep and lasting cuts to CO2, reducing SLCPs can keep help to keep us below 2 degrees C of warming by the turn of this century (see Figure 2). In addition, these measures would help avoid almost 3 million deaths per year, and save more than 100 million tonnes of crops.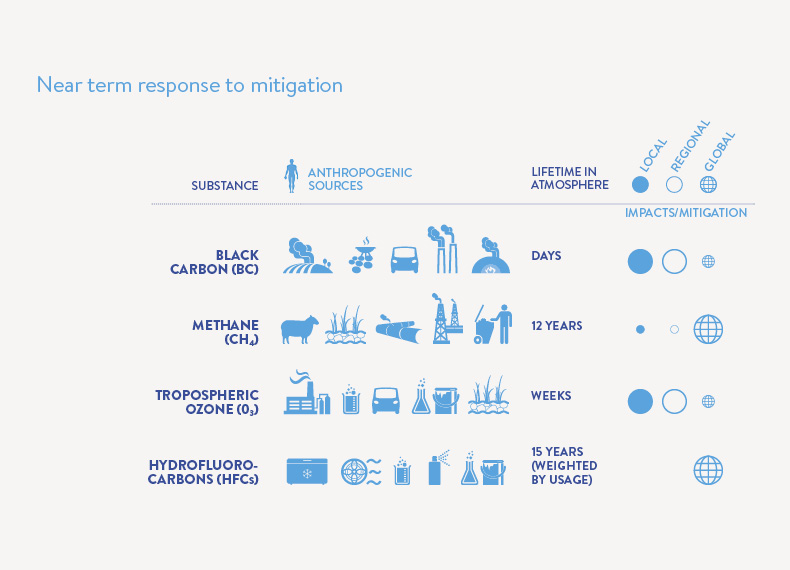 Figure 1.
Many of the SLCPs control measures will contribute to mitigating CO2 emissions. Addressing incomplete combustion of fossil fuels and biomass will reduce black carbon and CO2 emissions, and have immediate local benefits. A recent study states that phasing down the use of HFCs could provide as much as 0.5 degrees C in avoided warming by 2100, and up to 100 billion tonnes of CO2 equivalent by 2050 by improving the energy efficiency of appliances as a part of any HFC replacement transition, as announced by the US Environmental Protection Agency in October 2015. [QUERY: a word was left out in this sentence: I think it should be HFCs, but could the author check please?]
The Climate and Clean Air Coalition
To tackle this challenge and opportunity the Climate and Clean Air Coalition to Reduce Short-Lived Climate Pollutants (CCAC) – now 50 countries and 60 international and non-governmental organisations – is launching its new 5-year strategy (2015-2020) to scale up action in support of policy and practice implementation to deliver substantial SLCP reductions in the near to medium term. This is done through partners' own and collective actions to promote transformational change.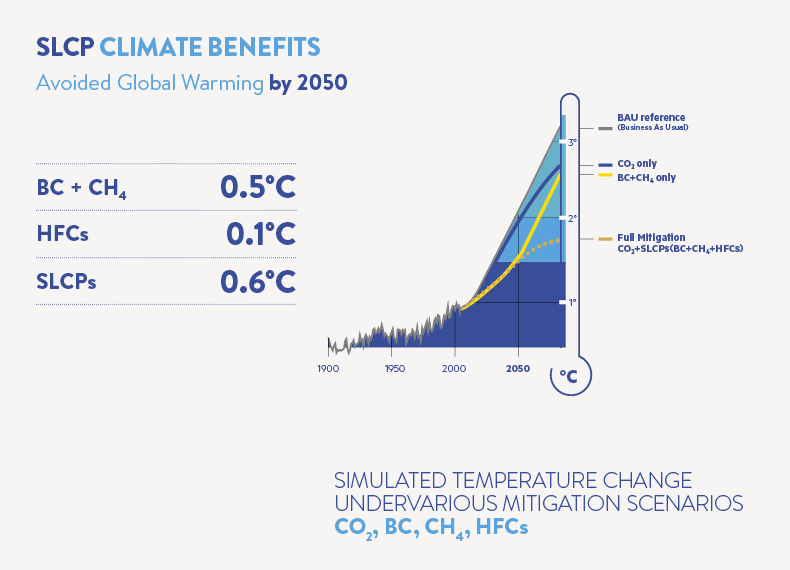 Figure 2.
Eleven initiative sectors from agriculture, bricks production, domestic cooking and heating, municipal solid waste, heavy duty diesel, oil and gas production and HFC alternatives are under way. The Coalition is also supporting national action planning with tools to assess emissions and benefits from specific counter-measures (SNAP) and providing capacity strengthening to take on these tasks in 14 countries.
The CCAC is also providing advice on financing and expanding the scientific evidence through regional assessments.
Results from new initiatives
In the three years since its launch, the Coalition's efforts are gaining traction and good things are starting to show:
While negotiators at the Montreal Protocol are discussing in earnest how to control HFCs, the CCAC HFC initiative has supported surveys in countries to record current and projected future use of HFCs, as well as opportunities to avoid growth in high-global warming potential (GWP) HFCs through policies and other measures. During the 27th meeting of the parties in Dubai, the United Nations Development Programme presented the inventories of six countries – Bangladesh, Chile, Colombia, Ghana, Indonesia and Nigeria – finding that HFC use is not uniform across each country, and that it is growing. The United Nations Environment Programme, United Nations Industrial Development Organisation and the World Bank will work on HFC inventories in a further eight developing countries. CCAC technology demonstrations on alternatives to HFCs are under way in the cold food chain and mobile air conditioning.
Mexico, one of the founding countries of the CCAC, has included the reduction of SLCPs in its climate change law. The regulatory committee of Mexico's Secretariat of Environment and Natural Resources (SEMARNAT) adopted a proposal earlier in 2015 that will make Mexico the first country to virtually eliminate fine particle and black carbon emissions from diesel trucks. This result came about with support the CCAC's Heavy-Duty Diesel Initiative and the new fuel standard, NOM-044.
Half a world away, in Nepal, the CCAC worked with local partners and the International Centre for Integrated Mountain Development (ICIMOD) to rapidly introduce new practices and kiln technology following the devastating earthquake in April 2015. Ninety per cent of the country's brick kilns were destroyed or damaged, and the nation needed to rebuild hundreds of thousands of buildings. While tragic, the earthquake provided the opportunity to redesign Nepal's brick kilns to be more energy efficient and less polluting, and introduce alternative environmentally friendly building material. In Talca, Chile, local brick producers met earlier in 2015 with national authorities, technical experts from Colombia, Chile, Ecuador, Mexico and Brazil, and policy-makers from around the region to launch a Latin American network to advocate and promote changes in brick production and policies to make kilns more efficient and reduce black carbon pollution.
Beyene, an Ethiopian farmer, now harvests biogas from manure from his cattle to cover his energy needs. This practice was shared and expanded through a CCAC sponsored initiative. Poor manure management and enteric fermentation from cattle and other ruminant livestock is the largest source of anthropogenic methane, contributing 31 per cent of global methane emissions.
A results-based funding mechanism for a pilot city in the municipal solid waste initiative was tested in Penang, Malaysia, and is now being adopted. Penang City Council (MBPP) won the first prize and the Seberang Perai Municipal Council (MPSP) won the second prize at the World Town Planning Day Awards at the National Level for dealing with organic waste at source, using the Bio-regen food waste machine to convert food waste into liquid soil enhancers and also as compost for community farming, reducing methane emissions.
New announcements
The importance for fast action on SLCPs has gained attention in the climate agenda and for an increasing number of private sector businesses. It is also an opportunity to deploy new technologies. The topic will be present during many discussions at the Climate Conference in Paris, COP21. SLCP features as a focus area on the Lima Paris Action Agenda – a global movement to promote immediate action. CCAC partners and important businesses will make new announcements in four areas. These include:
A pledge by companies to reduce the use and emissions of high GWP HFCs, improve the energy efficiency of equipment, and reduce food loss in the cold food chain. They have also committed to reducing HFC emissions from refrigerant servicing by 30 to 50 per cent within 10 years.
To dramatically reduce black carbon and CO2 emissions from global freight transport by doubling the number of countries committed to establishing green freight programmes in order to create a more efficient, cleaner and greener, multimodal, global freight supply chain.
To work with oil and gas companies to reduce fugitive methane emissions from their extraction, refining and distribution activities by surveying nine "core" sources that account for much of the methane emissions in typical natural gas extraction and transport operations and evaluate existing cost-effective technology options to stop leakage from these sources.
To increase the number of cities reducing methane emissions from municipal solid waste management by 2020.
In addition, fifteen countries have specifically mentioned SLCPs, air pollution, or relevant mitigation co-benefits in their Intended Nationally Determined Contributions (INDCs) submitted to the United Nations Framework Convention on Climate Change (UNFCCC) – Benin, Central African Republic, Chile, Ghana, India, Ivory Coast, Lichtenstein, Mauritius, Mexico, Mongolia, Morocco, Myanmar, Senegal, United Arab Emirates (UAE) and Zambia.
Mexico and Chile both included separate sections in their INDCs on SLCPs (see box), specifically accounting for black carbon. Mexico also pledged specific conditional and unconditional emissions reductions targets for black carbon emissions.
INDC commitments on SLCPs, Mexico and Chile
Mexico (2015) Intended Nationally Determined Contribution 1: "SLCPs have an important Global Warming Potential and a shorter life span in the atmosphere than CO2. Actions to abate SLCPs simultaneously contribute to climate change mitigation in the near term and to the immediate improvement of air quality, as well as to generate positive impacts on human health and ecosystems conservation; in consistence with the recommendations contained in the 5th Assessment Report of the Intergovernmental Panel on Climate Change (IPCC), as well as with the guidelines of the Clean Air and Climate Coalition (CCAC) of which Mexico is a member."
Chile (2015) Contribucion Nacional Tentativa De Chile (INDC) Para El Acuerdo Climatico Paris 2015, 16: "Like other countries, Chile recognises that actions to bring down the short-lived pollutants (SLCP in English) are a substantial contribution in mitigating the causes of climate change. Additionally, there are known co-benefits of these actions, in terms of achieving lower levels of local air pollution in urban centres. Black carbon, which belongs to the SLCPs, is a significant part of particulate matter (PM 2.5) measured in Chilean cities. The main sources of carbon black in Chile come from transport diesel, heating and residential wood stove. Decontamination Strategy Atmospheric 2014-2018 Government of Chile, includes the implementation of air pollution control plans for fine particulate matter." (unofficial translation)
Mexico (2015) Intended Nationally Determined Contribution, 2: "Mexico is committed to reduce unconditionally 25 per cent of its Greenhouse Gases and Short Lived Climate Pollutants emissions (below BAU) for the year 2030. This commitment implies a reduction of 22 per cent of GHG and a reduction of 51 per cent of Black Carbon…. The 25 per cent reduction commitment expressed above could increase up to 40 per cent in a conditional manner, subject to a global agreement addressing important topics including international carbon price, carbon border adjustments, technical cooperation, access to low-cost financial resources and technology transfer, all at a scale commensurate to the challenge of global climate change."[end box]
Making change together
Together we can make the change – air pollution controllers, climate policy-makers, city officials, producers of oil and gas, air conditioning and refrigeration, heavy duty diesel vehicles and bricks, and farmers.
And I will make my own contribution at home – in choice of transport, producing less waste, separating and recycling. To breathe life!