Energy efficiency – key to closing the emissions gap
A number of countries have made pledges to reduce greenhouse gas emissions, motivated by the Copenhagen Accord target of limiting the global average temperature to 2°C above its pre-industrial levels. Even if these pledges are strictly adhered to, there will be more to do if emissions are to be kept down. Countries must find extra ways to make progress towards the 2020 targets – in particular by exploiting all opportunities for energy efficiency.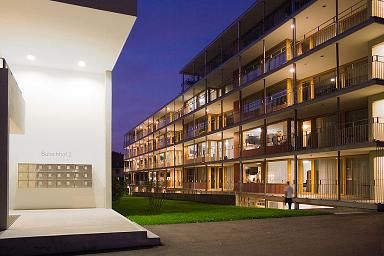 Since 2010, the United Nations Environment Programme (UNEP) has convened scientists from all over the world to assess if current pledges to reduce emissions are enough to keep the world on track to meet the target, or whether there is a gap between ambition and reality. The short answer is that there is a gap, and it is quite significant. The latest UNEP gap assessment in 2013 estimated it to be 8 to 12 GtCO2e by 2020. The analysis furthermore shows that if the gap is not closed or reduced significantly, the new global climate agreement stipulated to enter into force by 2020 cannot keep us on a maximum 2°C path. The stark conclusion is that countries need to step up their action in areas where significant emissions reductions can be achieved in the short term.
Stringent implementation of existing pledges will be important and the UNEP Gap Report identifies areas for action, including energy efficiency, renewable energy, fossil energy subsidies, and emission of methane and other short lived climate pollutants. The International Energy Agency's Special Report Redrawing the Energy–Climate Map (2013) analyses the short-term reduction potential for the same four key areas of action, and concludes that energy efficiency is the area with the largest potential. Many proven technologies exist for extracting more value in terms of the services that energy makes possible from the same amount of energy. The challenge, then, is to scale up action rapidly and on a much larger scale.
The paradox of energy efficiency is that it is relevant for most sectors but often requires coordinated engagement of a large and diverse group of actors. Increasing energy efficiency therefore presents a very different implementation challenge compared with energy supply, where decisions in most cases are centralised in large energy companies or government ministries.
Sustainable energy for all
A new initiative that aims to overcome some of these challenges – the Global Energy Efficiency Accelerator Platform – was launched at the UN Secretary General's Climate Summit, 2014.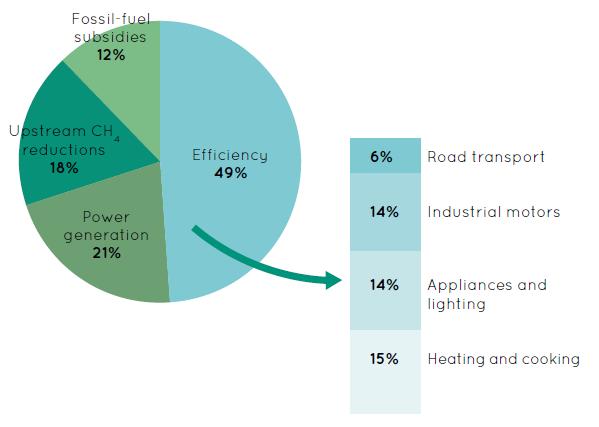 The Global Platform is a public-private partnership within the Sustainable Energy for All (SE4ALL) initiative led by Secretary-General Ban Ki-Moon and the World Bank President Jim Yong Kim. SE4ALL has as one of its three interlinked objectives to be achieved by 2030 a doubling of the global rate of improvement in energy efficiency; the Global Energy Efficiency Accelerator Platform will help reach this objective.
The Accelerator Platform brings together countries, cities and private companies with the support of international organisations and finance institutions. The Platform has a number of sector or technology-based accelerators currently covering five areas:
Lighting
Appliances and equipment
Buildings
Vehicle fuel efficiency
District energy systems.
These are exactly the areas identified by IEA as having particularly high potential. Additional accelerators are being developed for industry, particular small and medium-sized enterprises, and the electric power industry.
Cities, states and regions around the world have been leaders in driving energy efficiency policies and practices within their jurisdictions. Many large and medium-sized cities have participated in C40 and ICLEI initiatives to improve sustainability and reduce carbon emissions within their jurisdictions. At the recent C40 Mayors Summit in Johannesburg, participating cities reported that they had collectively taken over 1,800 energy efficiency actions.
At the recent C40 Mayors Summit in Johannesburg, participating cities reported that they had collectively taken over 1,800 energy efficiency actions
The R20 members, along with the States and Regions Network, have taken similar action to reduce the threat and impact of climate change in their regions. What has often been missing from these efforts is strong collaboration between a public sector entity setting the policy and regulatory frameworks, and a private sector that is committed to driving technology standards, finding financial solutions, and responding to targeted incentives that aim to accelerate improvements. The EE Accelerator Platform aims to fill this space.
A rapid transition to efficient lighting
Electricity for lighting accounts for at least 15 per cent of global electric power consumption and results in 5 per cent of worldwide CO2 emissions (UNEP, 2012). A global transition to widely available efficient solutions in all indoor and outdoor applications by 2030 would lower electricity demand for lighting by 940 terawatt-hours annually, and reduce emissions by 490 million tonnes of CO2 equivalent.
Widespread use of energy efficient lamps and lighting devices would cut electricity bills by an annual US$110; reduce fuel imports, peak demand, and the frequency of power outages; and improve end-user welfare. A rapid transition to efficiency measures in the lighting sector would also save over US$210 billion in avoided investments in roughly 200 new coal-fired power plants.
To date, 55 developing countries have joined the Global Efficient Lighting Partnership with the intent of phasing-out inefficient incandescent lamps by the end of 2016. Half of these countries are drafting or already implementing efficient lighting strategies with support from UNEP. Partner countries alone will save over US$7.5 billion and reduce emissions CO2 by 35 million tonnes annually. During the Climate Summit another 11 countries joined the Partnership, and more are in the process of engaging formally.
The global shift to efficient appliances and equipment
In 2012, non-OECD countries consumed more than half of the world's electricity for the first time (IEA Key World Energy Statistics 2014). In these same countries demand will continue to grow the fastest in coming years, driven by economic development and the acquisition by millions of households and businesses of electricity-consuming devices that add markedly to the quality of life. If the millions of refrigerators, air conditioners, ceiling fans, and other appliances of tomorrow are as energy efficient as possible, consumers will save money, the air will be cleaner, and severe climate change less likely. The challenge is that in many developing countries minimum energy performance standards are very low or are entirely missing.
If developing countries and emerging economies were to adopt ambitious efficiency standards...they would reduce global electricity consumption by 1,500 terawatt-hours per year and annual CO2 emissions by 1 giga tonne
The key is a global shift to more efficient appliances and equipment. To achieve this market transition, UNEP and the Global Environment Facility (GEF) launched the Global Efficient Appliances and Equipment Partnership Programme and the Appliances and Equipment Accelerator under SE4ALL. This initiative brings together like-minded organisations and private sector companies extending throughout the complete value chain of energy generation, distribution and consumption, from utilities and leading power technology companies to appliance manufacturers. In Latin America, the Caribbean and Southern Africa the Accelerator is starting to build competitive regional markets that foster trade in efficient products, reduce prices and increase savings to consumers.
If developing countries and emerging economies were to adopt ambitious efficiency standards for the top six energy consuming products – electric motors, air conditioners and fans, refrigerators, information and communication technology, and distribution transformers – they would reduce global electricity consumption by 1,500 terawatt-hours per year and annual CO2 emissions by 1 giga tonne, equivalent to taking 500 million cars off the road. At the same time the reduction in energy consumption would shave US$215 billion of electricity bills each year.
Improving vehicle fuel efficiency
Vehicle fuel efficiency is a high-impact efficiency opportunity and the Global Fuel Economy Initiative, or GFEI, is the accelerator within the SE4ALL Global Platform addressing this particular area.
GFEI was established in 2009 by several global organisations – the International Energy Agency, the International Transport Forum, the FIA Foundation, and UNEP; these organisations were later joined by the University of California Davis and the International Council for Clean Transportation. GFEI's aim is to double the efficiency of the global vehicle fleet from an average of 8 litres per 100 km in 2005 to 4 litres per 100 km by 2050, reducing emissions as a direct consequence.
Consistent with this long-term goal, GEFI also aims to double new light duty vehicle fuel economy (measured in either litres per 100km or grams of CO2 per km) by 2030 – goals that are consistent with IPCC and G8 targets and recommendations. Even if the number of vehicle kilometres doubles by 2050 because of growth in transport, efficiency improvements on this scale would effectively keep emissions of CO2 from light duty vehicles at current levels. Vehicle efficiency improvements that follow this path would cut CO2 emissions by 1Gt CO2 annually by 2025 and 2Gt annually by 2050.
The Initiative has been undertaken successfully in a number of countries, including Chile, Ethiopia, Kenya and Indonesia. Several countries have already committed to be part of its expansion and many more have expressed strong interest developing or strengthening their fuel economy policies under the GFEI flag.
The SE4ALL Energy Efficiency Accelerators are doing what their name suggests, accelerating action by bringing together motivated organisations, governments, NGOs and companies to achieve collective impact, quickly and at scale. Energy efficiency is not a new idea, but when it comes to fighting climate change, it is an idea whose time has definitely come.