Delivering a low carbon Olympic Games
The record we do not want to break: the inside story of delivering low carbon Olympic Games in Rio.
The opening ceremony of Rio 2016 Olympic Games will be recalled for delivering "the most widely-viewed climate change message ever" . As Greenpeace blog pointed out, "no other global sporting event has put the message of climate change front and centre quite like the Rio Olympics." But a much less widely spread story is the one of the climate actions that took place behind the stage.
Before the strong message on climate change was broadcasted globally, projects have been implemented in Brazil and other Latin American countries to reduce 2.2 million tonnes of greenhouse gas emissions. In parallel, a strategy to minimise emissions in the daily management of the world's biggest sporting event has been delivered. The objective was to host low carbon Games, while creating lasting, beneficial legacies. The power of the Games to inspire change opens up a range of alternatives that contribute to the transition to low carbon production patterns in key sectors of Latin American economy.
Anticipating carbon impacts
The first step was to anticipate carbon impacts so they could be avoided, reduced or compensated for. A study carried out by an expert firm estimated a reference scenario in which the activities directly related to the hosting of the Olympic and Paralympic Games in Rio would bring an additional 470,000 tonnes of CO2eq. The construction of sporting and support venues and urban infrastructure was estimated to generate 1,590,000 tonnes of CO2eq, and indirect emissions from spectators (international and domestic travel, accommodation, food) were estimated to range from 1,500,000 to 2,500,000 tonnes of CO2eq.
The emissions reference scenario included embodied carbon, attributed them entirely to the event, and took into account all activities related to preparation, staging and disassembling. It followed the principles of the GHG Protocol and used the methodology developed specifically for the London 2012 Olympic and Paralympic Games.
Reduction Measures
The target of 18.2 per cent reduction of direct emissions in relation to the reference scenario was established after consultation with a broad range of stakeholders.
The delivery of emissions reduction focused on careful planning and efficient processes, reducing embodied carbon in materials through smart design and sustainable purchasing and substituting fossil fuels for renewable fuels. A specialized life-cycle analysis firm assessed alternative scenarios for carbon footprint reduction, considering other parameters such as viability, cost of implementation and awareness potential.
One of the most relevant reduction measures taken was the careful planning of primary and back-up electrical power, with an emphasis on energy efficiency. Smart engineering on temporary generator use was also deployed, and a number of generators were used in "cold standby" mode. This effort resulted in an estimated reduction of 18.3 per cent in the total energy demand for the Games (energy demand plan from December 2015 in relation to the 2013 baseline), to be confirmed by the emissions final inventory.
Other key measures included targeting 100 per cent use of public transport, reinforced by the absence of spectator parking spaces at competition venues, the inclusion of vegetarian meal options and the smaller flame in the Olympic and Paralympic cauldrons. The replacement of fossil fuels by renewable fuels was another important action. Eighty per cent of the fleet of light vehicles was flex-fuel, allowing for extensive use of ethanol.
Design teams also worked with the challenge of reducing the physical footprint of the temporary structures in relation to the initial design. For example, the floor area requirement for the temporary structures at the Olympic and Paralympic Village was reduced by 52% per cent. The efficient use of existing materials, such as tents, seating, barriers and containers, also reduced the amount of customized manufacturing.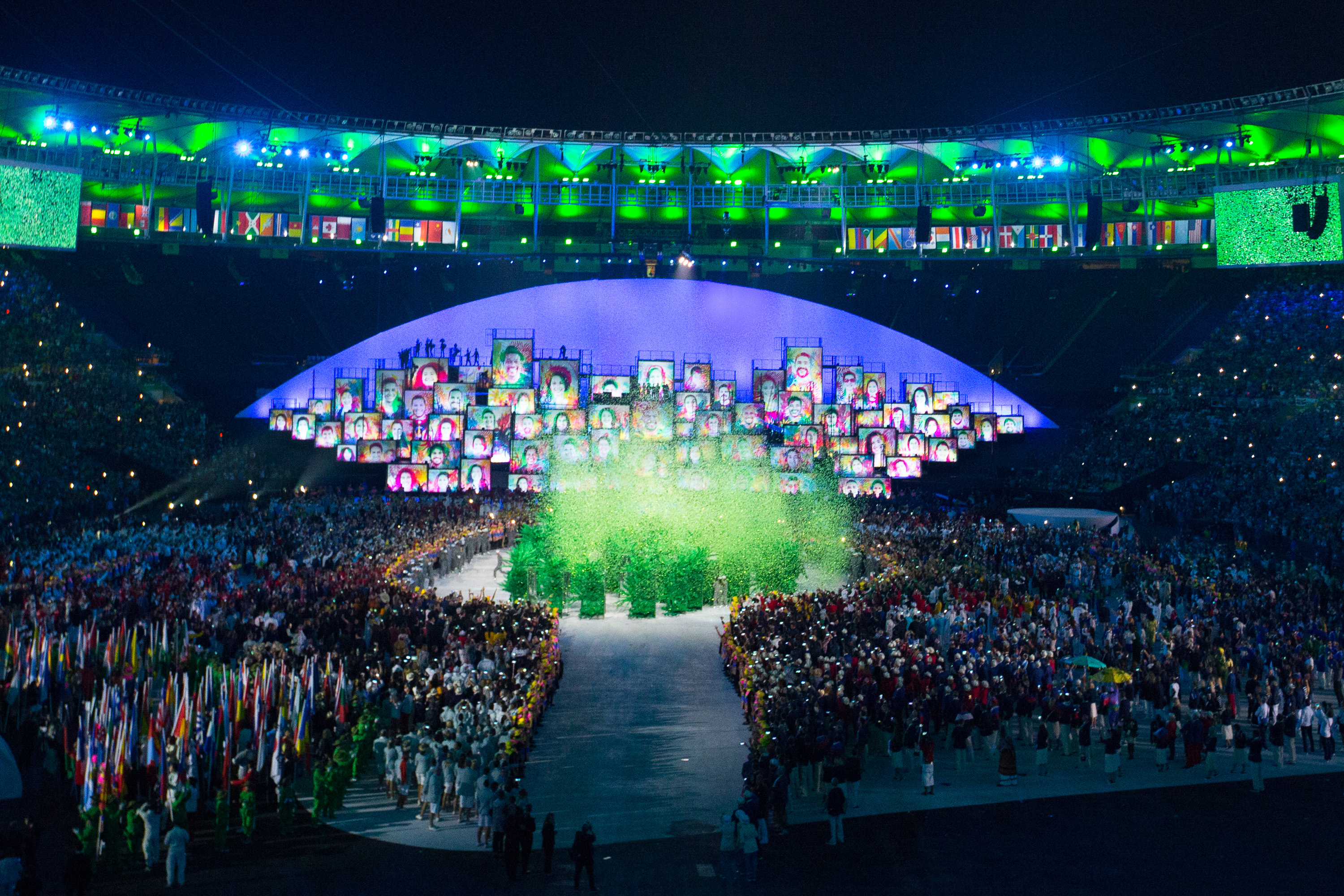 Indirect Emissions
However, although reductions in owned emissions were substantial, the size of indirect emissions remained problematic. In response, worldwide Olympic Partner Dow has delivered benefits of 500,000 tonnes CO2e towards the mitigation of the Rio 2016 owned carbon footprint. In addition, Rio 2016 and Dow collaborated to generate an additional 1.7 million tonnes CO2e of climate benefits to be applied toward the indirect carbon footprint of spectators' emissions.
These climate benefits were delivered through projects following three principles: economically viability within the Brazilian and Latin American reality; going "beyond business as usual" to deliver GHG emission reductions; and introduced innovations, o overcoming barriers and catalyzing long-term change in market practices. Ultimately, the projects were designed to enable industries to do more with less, switch to lower-carbon energy sources, conserve energy and enable material efficiency through state-of-the-art solutions. An independent third party validated the Project Plans, verified GHG emission reductions and conducted an assessment of forecasted generation of climate benefits based on verified evidences.
One of these projects aims to provide expertise and technology to farmers in the Araguaia valley region to restore degraded pasturelands, increase livestock production and reduce GHG emissions. Farmers have been introduced to carbon tracking methodology to monitor over 50,000 hectares of pastureland, model farms that enable soil to capture more carbon, and consulting services aimed at balancing investments in pasture restoration with intensification of livestock production.
A second project aims at generating sustainable biomass energy on a large scale by adopting innovative power and steam generation technologies from eucalyptus and sugarcane biomass to replace fossil fuels and significantly reduce GHG emissions. The biomass comes from dedicated farmlands in Aratu and Santa Vitoria, which produce enough energy to power all of Dow's local operations as well as excess energy for the grid. Dow is also working with The Nature Conservancy to identify priority land bank areas for conservation to ensure the protection and restoration of vital forests.
A third project focuses on raw material reductions in the packaging industry. Working with plastic film manufacturers in five countries (Brazil, Argentina, Guatemala, Mexico and Colombia), Dow has introduced micro-foaming technology that reduces density in coextruded films through a physical foaming process. This results in the production of more packaging material with the same amount of resin.
Improvements in crop productivity are also delivered through a partnership with a leading precision agronomy service provider. Through this project, farmers in Mato Grosso optimize the use of synthetic fertilizer to reduce nitrous oxide emissions and are provided with technologies such as satellite imagery, precision harvest and profit maps, intensive soil sampling and laboratory analysis, weather monitoring, and detailed reviews of cropping plans and goals with variable rate technology experts. Dow is also offering seeds and crop protection solutions to farmers to help optimize production and increase yields – benefits which will be realized in years far beyond the Olympics.
1.5 to stay alive
In line with the Paris Agreement, the Rio Olympic Games joined the 1.5 degree campaign, which features Olympians across the world demonstrating the need for "1.5 to stay alive". The Olympics are all about breaking records but GHG emissions is the one record we must not break.
Read the full Climate Action 2016/17 Publication here