Creating better mobility solutions
Erik Jonnaert, Secretary General of the European Automobile Manufacturers' Association (ACEA), outlines the automobile industry's commitment to reducing CO2 emissions and the need to shape a pragmatic policy framework surrounding changing demand and a move towards clean and smart mobility.
COP22 has an important role to play in translating the ambitious Paris Agreement into an agenda for concrete action. Europe's automobile manufacturers are fully committed to further reducing CO2 emissions. Our industry has already made great strides in improving the CO2 performance of new vehicles. In 2015 average new car emissions in Europe were 36 per cent lower than in 1995, an impressive decrease in just two decades. By 2021, CO2 emissions from new cars coming on to the roads will be 42 per cent less than in 2005, and ACEA is committed to doing even more in the future.
Changing demand
Demand for passenger and freight transport will only continue to grow in decades to come. Forecasts suggest an increase in mobility demand of 2.6 times the current levels by 2050. At the same time, the very nature of our mobility needs is also changing rapidly. Younger generations increasingly demand transport that provides the level of digital utility and capability to which they are accustomed when it comes to other services.
In parallel, ideas of ownership are changing as well. With each generation, people seem to become less committed to vehicle ownership. And when looking at society as a whole, changes in consumer demand are transforming the types of goods that are being delivered, as well as their distribution. Think, for example, of all those parcels delivered to people who are shopping online, all of them expecting rapid and direct delivery.
Another phenomenon that is redefining mobility is urbanisation. It is estimated that our planet will count 9.7 billion inhabitants by 2050, with two-thirds of people living in urban settlements. Besides the fact that mobility demand will increasingly need to meet the needs of city dwellers, cities are also among the areas where air quality standards are regularly exceeded. Reducing air pollution therefore remains a priority, even though reducing CO2 and pollutants simultaneously requires conflicting measures.
Rethinking mobility as a whole
Clearly, less mobility is not an option, that is just not how our modern lives work. Rethinking mobility as a whole is a much more fruitful pursuit. After all, it is not just a question of meeting targets based on current demand, as we need to be able to meet much greater, and very different, mobility needs in the future. So when we talk about translating global climate change ambitions into concrete actions, we need to overcome the traditional targets-only paradigm.
Instead we need better mobility solutions, and European automobile manufacturers are well under way to create them. Besides developing state-of-the-art vehicles that are fuel-efficient and low-emitting, and investing in a wide range of alternative powertrains, manufacturers are also looking into completely new models of mobility.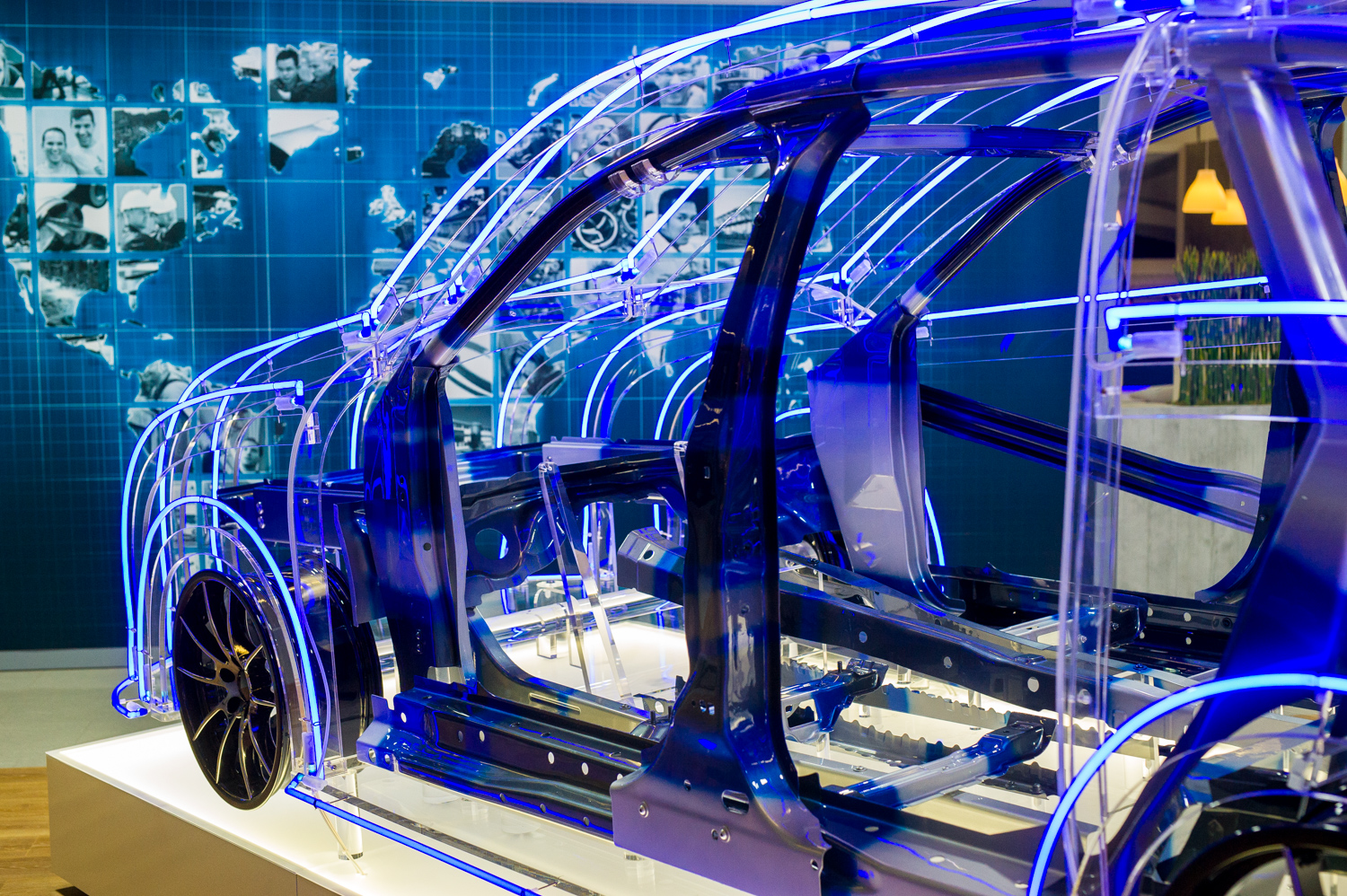 Clean mobility
In the future, road transport related emissions will be dramatically reduced thanks to a greater uptake of vehicles with the latest technologies and alternative powertrains, as well as intelligent transport systems and improved infrastructure.
As a result of significant investments in charging infrastructure, the barriers that used to hamper the market uptake of alternative-fuel vehicles for so long will finally be overcome. Reliable and uniform charging infrastructure will be widely available across Europe for the whole spectrum of alternative powertrains. The automobile industry's investments in more efficient, low-emitting vehicles will finally come to full fruition, as fleet renewal brings the latest generation of vehicles to our streets in large numbers.
When looking at freight transport, heavy-duty vehicles will have made great strides as well. Intelligent transport systems in particular will help to make road transport much cleaner in decades to come. Truck platooning for example, which is the linking of two or more trucks in convoy via wireless communications, will become a common sight throughout Europe, saving fuel and reducing CO2 emissions by up to 10 per cent. For heavy-duty vehicles, we will have to differentiate between what is possible for long-haul transport and regional or urban use. Especially in the case of the latter, we will increasingly see a role for alternative powertrains – with buses among the first vehicles expected to make a shift towards zero-emission transport.
Smart mobility
In order to meet changing demand, manufacturers will become providers of innovative mobility solutions rather than 'just' being producers of vehicles. The future will bring a transport landscape in which private car, freight, bus, rail, pedestrian and bicycle traffic will be woven into a connected network, saving time and resources. The number of vehicles with built-in connectivity will increase from 10 per cent in 2013 to 90 per cent by 2020.
Automated driving will assist those with reduced mobility – for example the elderly and those with visual or other health impairments – to continue or start to drive, either supported by automated systems or within a fully autonomous mode. Vehicles will not only be connected with each other, but also with the infrastructure around them. Traffic lights, for example, will optimise transport flows. The need for parking spots in cities could also be reduced by up to 60 per cent thanks to self-driving vehicles. Increased traffic efficiency means less congestion, with people and goods arriving at their destinations faster and emissions being lowered significantly.
At the same time, tailored mobility and transport solutions will lead to new ownership models, customised intermodal mobility solutions and new logistics concepts. As a result, the auto industry's traditional business model of vehicle sales will be complemented by a range of diverse, on-demand mobility solutions, especially in urban environments. Freight transport will also adapt to new logistics trends and systems, based on a supply chain combining long-haul and last-mile solutions, with logistics platforms on multi-modal corridors – all managed by intelligent transport systems.
Turning to the question of public transport, the next generation of high-service collective transport will be born, including bus corridor concepts based on intermodality, with full integration between cars, bus, rail and non-motorised mobility. However, privately-owned vehicles will remain the main providers of individual mobility, due to their flexibility and the new scope to make valuable and productive use of the time spent in vehicles. In addition, new mobility concepts will offer on-demand mobility whenever desired.
Five policy recommendations
The European automotive sector invests over 44.7 billion in innovation each year to ensure new levels of clean and smart mobility. But given the fundamental nature of the challenges we face, these mobility issues simply cannot be addressed by industry alone – there is also clear need for supportive public policies. ACEA expresses the hope that COP22 will play a crucial role in setting this agenda. To that end, I would like to share five policy recommendations with you.
1. Foster innovation. Bearing in mind that innovation is market-driven, the industry needs the flexibility to drive it forward, with policies and regulations that encourage it. The automobile industry calls for support for dedicated automotive initiatives and research that further advances vehicle connectivity, environmental performance and safety.
2. Adopt a comprehensive approach to reducing emissions. We need to recognise that the current emission limiting system has limited environmental benefits, as it focuses on new vehicle technology alone. A more effective approach will look at the full fleet and how it is used. Such a comprehensive approach can reduce emissions more effectively by drawing on a full spectrum of solutions, whether this relates to intelligent transport systems, improving infrastructure or altering driver behaviour.
3. Ensure a better coordination of climate and air quality policies. While significant progress has been made in reducing both CO2 and pollutant emissions from vehicles, there is still a technical challenge for car manufacturers, as measures to reduce one often result in the increase of the other. Over past years, EU policy has focused on reducing greenhouse gas emissions, resulting in the most stringent CO2 targets for cars in the world. Looking forward, we need a coherent policy framework in which ambitious climate change objectives are better reconciled with tougher air quality standards.
4. Encourage a move to the cleanest vehicles. The average age of road vehicles in Europe has been increasing since 2000; for cars it is currently close to 10 years. Fleet renewal offers the most effective way to decrease road transport-related emissions. As older vehicles are replaced with newer models, emissions from road transport will fall. The automobile industry calls on policy-makers to help accelerate fleet renewal and the introduction of the cleanest and smartest vehicles.
5. Make sure that policy measures are balanced. Our industry has already reduced CO2 emissions significantly and is committed to doing more, but the relative costs of reducing emissions must be similar and proportionate across all sectors, in Europe versus the rest of the world. For this reason ACEA calls for a holistic approach, addressing all modes of transport – including air, maritime and rail – and all industrial sectors. Only a level playing field will allow the EU automobile industry to make the long-term investments that are necessary to tackle future challenges
Read the full Climate Action 2016/17 Publication here