Canada - a clean energy leader
The Hon Catherine McKenna, Minister of the Environment and Climate Change, outlines Canada's commitment to promoting climate change solutions, including support for carbon pricing and market-based approaches as important tools for addressing climate change.
In summer 2016, a 1.2-square-kilometre iceberg sheared off the Porcupine Glacier in north-west British Columbia, Canada's westernmost province. It is believed to be the largest ever to break off a Canadian glacier, and it was a dramatic reminder of the effects of climate change. In Canada, as in the rest of the world, climate change is evident – its impacts are seared across our land.
In the Atlantic Provinces, coastline erosion is a real and significant challenge. Prince Edward Island is literally shrinking, losing 46 centimetres of coastline in 2014 alone – twice the historical long-term average. By 2100, the sea level in Atlantic Canada could rise by up to one metre with serious repercussions.
On the Canadian Prairies, extreme weather in the form of droughts and floods is increasing in frequency. These climate events can have devastating effects on crop yields; they can lead to more deaths of livestock; and they also bring increased prevalence of pests and disease. In the country's Arctic north, the average annual temperature has tripled, compared with the global average, since the middle of the last century. Snow, sea ice, glaciers and permafrost are all in rapid decline.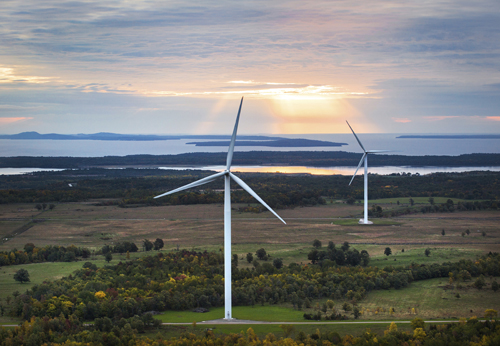 Promoting solutions
These are the environmental conditions that drove Canada to send a broad delegation of government, indigenous and industry leaders to Paris last December, for COP21. Canada came to those discussions prepared to put forward and promote solutions. Among these was our country's commitment to support carbon pricing and market-based approaches as important tools for addressing climate change.
In Paris, Canada announced a contribution of C$2.65 billion over five years to help developing countries reduce their greenhouse gas emissions and to better adapt to climate-change impacts. This contribution is part of our commitment to supporting climate efforts around the world.
Clean energy R&D
Canada also stood with 20 countries and the European Union as part of an effort called Mission Innovation. Each player agreed to double their respective investments in clean energy research and development over five years. They also committed to encouraging private-sector investments in clean-energy technology and increasing collaboration among participating countries.
As part of its Mission Innovation commitment, Canada will double its 2014-15 funding of C$387 million for clean energy and clean technology research and development to C$775 million by 2020.
The Vancouver Declaration
Since Paris, Canada has also embarked on a great national effort: laying the groundwork for the economy of tomorrow. Our government believes there is no more pressing reason to come together than to combat climate change. We have worked tirelessly to develop a national agreement on climate change that every province and territory could endorse. That agreement, called the Vancouver Declaration, was signed last March. For the first time in Canada's history, we had the federal government and all 13 provinces and territories united in tackling climate change.
The Vancouver Declaration is the centrepiece of our work on climate change in 2016. It committed the senior levels of government to participating in working groups dedicated to four key areas:

- Carbon pricing mechanisms
- Specific mitigation opportunities
- Clean technology, innovation and jobs
- Adaptation and climate resilience.
Those four working groups have been hard at work ever since last spring. They have developed ideas and solutions that will be considered by Canada's Prime Minister and the Premiers of all 13 provinces and territories. The federal and provincial governments are discussing measures that will then form a new Pan-Canadian Framework for clean growth and climate change.
This framework will include not only a series of measures that can reduce greenhouse gas emissions, support innovation and improve our capacity to adapt and be resilient to a changing climate. The Pan-Canadian Framework will be a plan to lead our country into a historic transition, one that will see us protect the environment and strengthen our economy.
Transitioning to a low-carbon economy
The transition to a low-carbon economy is what lay behind our government's announcement in early October 2016. In the same week we ratified the Paris Agreement, we also set out our plan to put a price on carbon pollution across Canada by 2018. We believe this will put Canada on the path to significant reductions of our greenhouse gas emissions.
We set a benchmark price for carbon pollution: a minimum of C$10 per tonne in 2018, rising by C$10 each year to C$50 per tonne in 2022. To make sure that this plan is contributing effectively to meeting Canada's targets, it will be reviewed at the end of five years, in 2022.
The provinces and territories can choose how they want to price carbon pollution. They can either put a direct price on it through a levy or implement a cap-and-trade system. Many of Canada's provinces and territories are already leaders in addressing greenhouse gas emissions. In fact, more than 80 per cent of the country's population currently has a carbon pricing system in place.
An integral part of our approach is that revenue from pricing pollution will remain with the provinces and territories of origin. Provinces and territories can then decide how to invest that revenue.
As options, they can invest in clean technology or energy efficiency improvements; they can invest in clean transport infrastructure; or they can give the money back to small businesses or residents through tax cuts. Many business leaders support this measure as they know that pricing carbon pollution makes good business sense.
Engaging industry and finance
In our government's discussions with Canadian industry and finance leaders over the past few months, a common theme has emerged: carbon pricing is one of the most efficient ways to reduce emissions and to stimulate the market, to make investments in innovation, and to deploy low-carbon technology and create good jobs for Canadians.
Many leading national corporations consider an internal price on carbon in their investment decisions; and business leaders have joined the Carbon Pricing Leadership Coalition, a World-Bank-led international partnership of governments, businesses and civil society organisations who have agreed to work with each other towards a carbon price applied throughout the global economy.
Our businesses are known around the world for collaborative research and development, particularly in the clean technology sector. Canadian businesses spent C$1.2 billion on clean technology research and development in 2014 alone. And Canada is already seeing major foreign investments and partnerships in clean energy technologies. The rate of growth in Canada's clean energy sector is outpacing that of every other.
Canada is home to more than 750 clean technology companies and more than 87 per cent of them are already exporters. This tells us that the forecast for success in sustainable energy in Canada is very good. Canada will create a low-carbon economy that provides good jobs and opportunities for all. Our country must make smart, strategic investments in clean growth and new infrastructure. We have already begun to make those investments, including: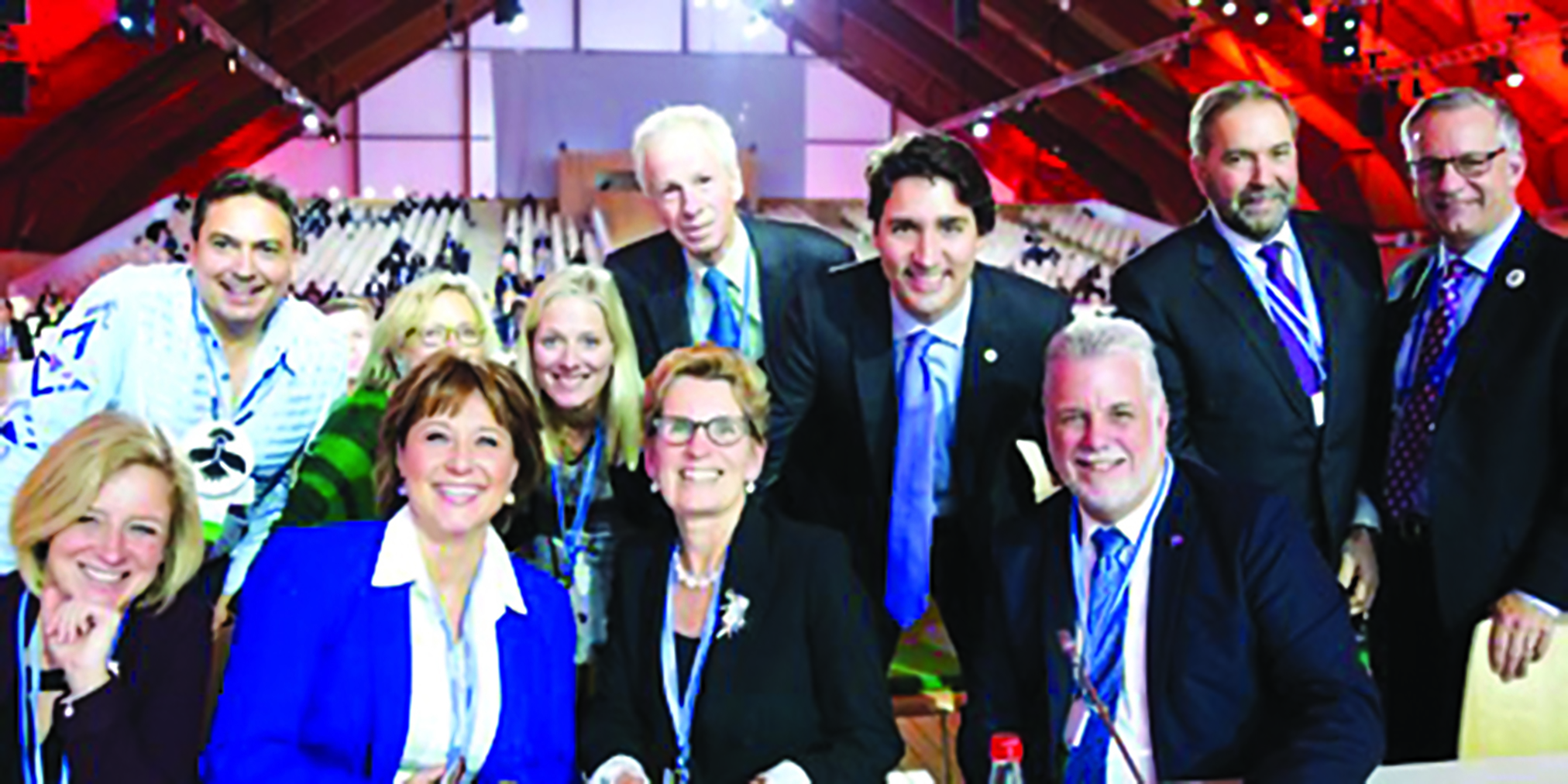 - C$2 billion for a low-carbon fund to work with provinces and territories as we transition to a low-carbon economy
- Billions of dollars more for public transit and other green infrastructure, including charging stations for electric vehicles and fuelling stations for alternative-fuel vehicles
- C$1 billion for clean energy and technology and more than C$100 million toward energy efficiency.
These investments, coupled with our plan to price carbon pollution across our country, reflect our belief that immediate action is required to address climate change. With hard work and determination, we can give our children and grandchildren the legacy they deserve. To accomplish this, Canada will be a leader during the clean energy century.
Canada hosting world environment day 2017
Canadians are passionate about protecting our planet. We are honoured that UN Environment has named our country to host World Environment Day 2017. We are working hard to make our country cleaner and healthier for this generation and the next.The Canadian government will lead global environmental protection by example, starting with its efforts in Canada. As part of the effort at home to tackle climate change and elevate the environment as a priority, the government is: working with Canadian industry to develop a cleaner economy,increasing our marine protected areas, and even providing free admission to our national parks in 2017, our country's 150th birthday. World Environment Day 2017 will be an opportunity for all Canadians to celebrate Canada's leadership on the environment and climate change. They know this is not just a national issue but one that encompasses the entire planet.
Read the full Climate Action 2016/17 Publication here