Solar generates over 1 billion kwH in a month in India
In February 2017, India's solar power capacity generated a total of 1.355 billion kilowatt hours (kWh) of electricity, according to the Central Electricity Authority of India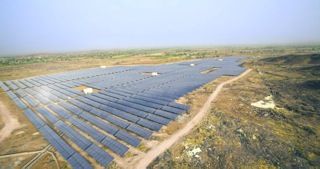 In February 2017, India's solar power capacity generated a total of 1.355 billion kilowatt hours (kWh) of electricity, according to the Central Electricity Authority of India.
February's figure represents the first time that monthly solar power generation exceeded the 1 billion kWh mark.
Compared to February last year, solar power generation was up 80 per cent – with total renewable power generation up just 17 per cent compared to 2016.
The most significant increase in solar power production was seen in the south of the country.
Tamil Nadu, Andhra Pradesh, Telangana and Karnataka have been home to several projects commissioned over the last few months, following a series of auctions.
In southern states, solar power generation increased from 175 million kWh in February 2016 to 649 million kWh in February 2017.
Tamil Nadu – home to the largest solar power project in India – reported a 173 per cent increase in power generation.
According to the Ministry of New and Renewable Energy, the nation's solar energy capacity almost doubled in 2016 to 2017 – with a record 5,526 megawatt (MW) of new capacity added.
India has now surpassed the 10 gigawatt (GW) solar photovoltaic (PV) installation milestone, having tripled its capacity in less than three years – according Indian Minister Piyush Goyal.
The country's cumulative solar capacity is currently estimated to be over 12 GW, compared to just 6.8 GW at the end of March 2016.
India is said to have a further 14 GW of solar projects under construction or soon-to-be developed, with a significant proportion expected to be commissioned during the upcoming financial year.
A further 6 GW of solar capacity is scheduled to auctioned very soon.
India is set to overtake Japan as the world's third-largest solar power market in 2017.
Minister Piyush Goyal has said that India's solar power generation capacity would most likely cross 20 GW within the next 15 months.
For the latest news on renewable energy, sustainability and climate change, sign up to our free newsletter here.