Urban ecology in Oslo
Oslo's sustainability initiatives range from implementing energy efficiency upgrades and targeting aggressive greenhouse gas emissions reductions to reducing waste streams through comprehensive management, as well as the pursuit of a progressive transport policy that includes electric vehicles as well as biogas production and hydrogen fuels.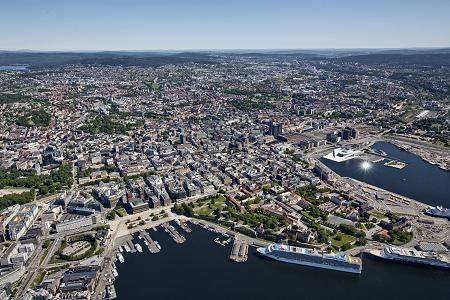 The city, which currently holds the record for the European continent's smallest per capita carbon footprint, aims to be a sustainable urban community where everyone has a right to clean air, clean water and access to attractive outdoor recreation areas.
Oslo is surrounded by green forest hills and the blue Oslo fjord, and the citizens of Oslo live in close contact with nature. Oslo has invested in preserving its natural habitat; two-thirds of the area within the city boundary is forest, parks and lakes. Oslo is also a compact, highly accessible city.
It is easy to move around by public transport and rentable city bikes are available all over the city centre. In 2007 Reader's Digest ranked Oslo as number two on a list of the world's greenest, most liveable cities. This year Oslo was selected as the Norwegian finalist in the Earth Hour City Challenge.
Powered by nature
Today, Oslo has low emissions per capita compared with other Norwegian and Scandinavian cities: around 2.3 tonnes of CO2 equivalent per person in 2009. One of the reasons for this is the large proportion of hydro power in the energy supply. This is partly due to Norway's rich hydro resources, but is also a result of forward planning by the city's politicians.
Oslo has low emissions per capita compared with other Norwegian and Scandinavian cities
At the end of the 19th century the municipalities of the former Oslo, Christiania and Akershus, started to invest in hydro power in order to secure the future. The first hydro power plant was completed in 1900. With a yearly production of around 20 gigawatt-hours, it was meant to guarantee the power supply of the capital 'for ever after'.
Today E-CO Energi is one of Norway's leading energy groups, producing 9.7 terawatt-hours yearly, more than the total consumption of electricity in the capital. The City of Oslo owns 100 per cent of the parent company.
The Urban Ecology Programme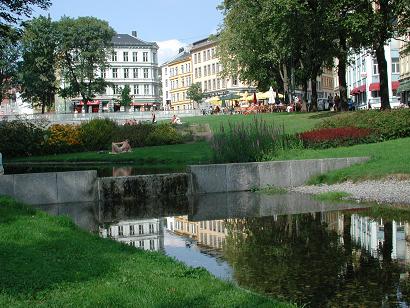 The City of Oslo has adopted a focused and long-term approach to improving the environment. Oslo's status as an international sustainable city was confirmed when it reached the finals of the European Green Capital Award in 2010/11.
Clear overall targets establish the framework for taking effective and successful action to help the environment. The city will actively put into force approved strategies and plans and implement them in the Master Municipal Plan and other policy documents, such as the Urban Ecology Programme (2016-2025). The Climate Action Plan 2012-2015 will ensure that priority measures are implemented so that the city's main environmental policy goals are achieved.
The implementation of the Urban Ecology Programme has so far spawned a number of environmental projects and has proved to be a powerful instrument in creating a sustainable city. It has thus provided the foundation for large sustainability initiatives such as the enhanced recycling scheme in Oslo, the phasing out of oil heating in municipal buildings, the tendering for low emission (subsequently zero emission) vehicles in the municipal vehicle fleet, and the introduction of environmental certification, of which the 'Eco Lighthouse' is a prime example.
Cleaning up our own courtyard
The City of Oslo is working with the central government, NGOs and the business sector to improve its environment and reduce its ecological footprint. Thus it has been of great importance to practice the principle of leading by example. We use environmental management systems and certification as the primary tool for achieving a greener economy in both the public and private sectors. Eco Lighthouse was established by key organisations in the private and public sectors, including the City of Oslo, and is currently the most widely used license for environmental certification in Norway. In November 2012, to strengthen Oslo's work on sustainable public procurement, the city joined ICLEI's sustainable procurement campaign Procura+.
"Over 350 municipal units and over 250 businesses in Oslo are now eco-certified"
The City of Oslo strives to engage with all its 43,000 employees through eco-certification of all work places, including departments, companies, schools, kindergartens and other units. Over 350 municipal units and over 250 businesses in Oslo are now eco-certified. The eco-certification systems in use are ISO 14001 for large departments and companies, and the Norwegian Eco-lighthouse for small and medium-sized units and businesses.
To obtain eco-certification the municipal units must:
Reduce their energy consumption and upgrade to use of sustainable energy sources if necessary
Reduce their use of car and air transport, and change to eco-friendly modes of transport
Reduce their use of materials, increase recycling and waste reduction, and thus decrease waste generation
Practice EcoProcura sustainable procurement
Report on their environmental performance with regard to these and other indicators.
Some of the most important recent policy decisions and activities include the phasing out of the use of oil heating in the municipality's houses and buildings, the introduction of passive house standards in all municipal buildings from 2014, the phasing out of fossil vehicles for municipal use by 2015, the implementation of procurement standards for climate neutral waste collection vehicles, and the introduction of biofuel in buses by the transport company Ruter, which plans, coordinates, orders and markets public transport in Oslo and Akershus.
Integrated waste and energy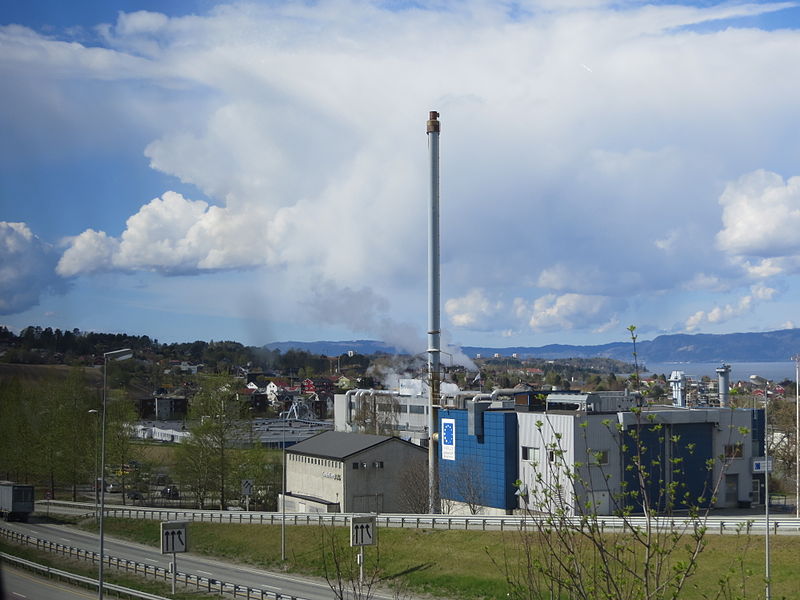 In 2006, Oslo City Council approved a project which takes an integrated approach to the city's climate, waste management and renewable energy objectives. The project involves the introduction of source separation and the recycling of organic household waste and plastic packaging by 2011. Municipal waste in Oslo is sorted and either reused, recycled, composted or incinerated. Five per cent is sent to landfill. Recovered energy is supplied to the district heating network.
Two of Oslo's landfill sites no longer receive waste for disposal. Landfill gas is collected from these sites and used for producing either electricity or heat. Extended source separation of food waste and plastic packaging has been introduced in stages and now covers the whole city. A centralised plan for optical sorting of the three fractions has been built, thereby enabling a simple and efficient collection system for waste resources from households in Oslo.
An anaerobic treatment plant in the Oslo region produces biogas from organic household waste and bio-fertiliser for the benefit of agriculture in the region. The biogas is to be upgraded for use in buses and vehicles. Oslo's new biogas plant will produce enough biogas to fuel 170 buses and will thus reduce CO2 emissions by 10,000 tonnes a year. The plant will further produce bio-fertiliser for around 100 medium-sized farms. For every kilo of plastic that is recycled, CO2 emissions are reduced by around 2 kg. Recycling requires less energy than the production of new plastic.
Challenges in reducing emissions
By 2030 the City of Oslo aims to have reduced its greenhouse gas (GHG) emissions by 50 per cent compared with 1990 levels. The key steps for achieving this target are linked to the phasing out of oil-fired heating and the reduction of emissions from road transport. All use of fossil fuels for central heating is being phased out and by 2020 there should be zero emissions from the heating of buildings. The City of Oslo will play a part in helping the utility company reach its target of eliminating the use of fossil fuel in its district heating system by 2016.
"All use of fossil fuels for central heating is being phased out and by 2020 there should be zero emissions from the heating of buildings"
Although Oslo has very low direct emissions of GHG compared with other European cities, we face a comparatively harder task to achieve our reduction target. As both the City of Oslo and the greater urban area are rapidly growing, there is huge pressure on the transport system, both in regard to commuting and the movement of freight within the city. The target of reducing GHG emission by 50 per cent from 1990 to 2030 indicates that we have to reach a per capita emission target of around 0.7 tonnes of CO2 equivalent by 2030. That means we need to have:
Zero-emission electricity consumption
Significant decarbonising of emissions from private and commercial transport.
Thus, the City of Oslo is facing today the next mitigation challenges of European cities, which have already made an immense effort to switch from high intensive carbon energy production to low intensive energy production and energy savings. In Oslo, however, the fuel switching option to reduce GHG emissions can only include decarbonising. Additionally, energy savings only partly imply GHG reductions. In order to secure these ambitious targets we primarily have to target innovative and new solutions to zero emission transport in our city region. This is challenging both with regard to the mayoral powers available and the innovative force of the urban community. As a city Oslo is prepared to act. Like all cities, it will need to be empowered, engaged and resourced in order to achieve sustainable decarbonisation.
Enabling eco-mobility
Road transport contributes 55 per cent of overall direct emissions and is thus the largest source of GHG emissions in Oslo. Oslo seeks to meet its steadily growing transport needs through increased supply of public services allied to the reduction of private car use. Oslo also works to promote low or zero fossil fuel consumption in motorised transport.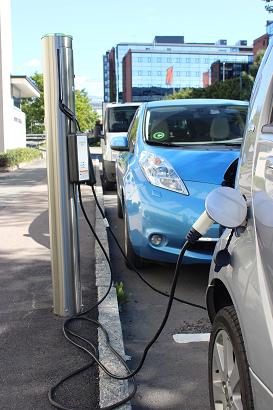 The main climate strategies related to transport are:
Developing a compact city with growth near public transport nodes and axes
Improving public transport
Facilitating the transition to green vehicles in Oslo
Switching to zero emission cars in Oslo
The core requirement for the City of Oslo is to secure green public transport for the growing population in the region. The number of public transport journeys has grown by more than 35 per cent in the period from 2005 to 2011, and the volume of car traffic has ceased expanding in the same period. This trend may be explained by modernisation, the increased frequency of public transport services and a reduction in the price of travel cards. Between 20 and 45 per cent of the revenues generated by the city's toll ring supplement other financing to cover investment and operating costs for public transport. In 2008 public transport use grew by 7 per cent and in the first half of 2009 rose again by 10 per cent. During the same period car use decreased by 4 per cent. More than 60 per cent of the energy used for public transport is renewable. Biogas from waste, together with biogas from waste water sludge, will be used as transport fuel and will replace diesel in buses.
Electric vehicles
The city's toll ring has been crucial in facilitating the introduction of green vehicles in Oslo. The city is paving the way for the introduction of electric vehicles. Today there are around 5,500 electric cars in the Oslo urban area. Since 1999 public parking has been free for electric vehicles in Norway. Electric cars are given free passage through Oslo´s toll road system and are allowed to use lanes otherwise reserved for public transport. Through the Climate and Energy Fund the City of Oslo supports the establishment of charging stations. Oslo has installed around 500 charging stations for electric vehicles in the city where users can charge their vehicles for free.
Cities act!
Cities have emerged as new and crucial stakeholders in combating climate change. It is important for Oslo that it learns from and interacts with other cities and cooperates with state authorities and civil society. We are proud to be a part of the C40 network, and to exchange experiences and learn from other cities which show leadership and are willing to take a stand over global warming. We intend to contribute actively to this network and are proud to stand shoulder to shoulder with other cities in the fight against climate change.