The Commonwealth Climate Finance Access Hub
Patricia Scotland, Secretary-General of the Commonwealth, describes how the Commonwealth Climate Finance Access Hub is unlocking climate finance for adaptation and mitigation in developing countries, providing a new kind of hope for vulnerable states.
Buccament Bay in St Vincent has been described as a luxury holiday resort. Invariably the focus is on its two beaches – one which has black sand from this volcanic island, and the other brilliant white, imported mineral from Guyana for the benefit of tourists. For locals, such as Conrad Jack, paradise holds many bad memories. On Christmas Eve 2013 a freak hundred-year weather event smashed Conrad's home in two. His girlfriend, Shirla Edwards, and he were swept away in the violent waters of the Buccament River. Shirla's body was never found and she is presumed dead. Conrad was relocated by the government and whenever there is heavy rain, the memory of that fateful day haunts him. What must always be remembered is that Conrad, and others like him, know hurricane seasons are a part of their lives and they accept it with a brave calm. They have little choice but to acquiesce for, unlike some parts of the world, escape is not an option.
While the international focus and concern are on the number of people who perish in these natural disasters, it is not just about the statistics of death. Every time there is a climatic shock, homes and property are destroyed. In the agricultural hinterland of St Vincent, crops and vegetation are uprooted, while tourism and trades are all but extinguished. Last year I witnessed the terrible cost to lives and the desolation to infrastructure that Tropical Storm Erika inflicted on my place of birth, Dominica. In a matter of moments, this fury of nature wiped out 90 per cent of the country's gross domestic product. In monetary terms, that's equivalent to almost half a billion US dollars. But no amount of money can ever undo what tropical storms achieve in minutes – single-handedly halt decades of progress.
So when Hurricane Matthew stormed its way across the Caribbean recently, leaving a trail of death and destruction in its wake, my immediate instinct was to pray for those who would come face-to-face with Mother Nature at her worst. But at times like these, people don't just need prayer. They need practical help; and thanks to the Commonwealth Climate Finance Access Hub, based in the Mauritius capital, Port Louis, that is exactly what we have promised to deliver. Vulnerable and small island states can now access billions of dollars to repair and build their country once again after a typically violent argument with the weather.
Freeing the funds
Donors have been set the ambitious target of delivering US$100 billion a year by 2020. Who can argue against this idea when climate change is arguably the greatest challenge facing the world today? Increasing global temperatures, rising sea levels, extreme weather and loss of ecosystems look set to alter the planet radically and pose an existential threat to many countries. In my view, the Hub is a practical step forward towards delivering the Paris Agreement on climate change, where one of the aims was for the urgent release of funds.
But the frustration is that all too often the money is tied up in a bureaucracy too labyrinthine to get your hands on. Small countries with limited capacity and lack of expertise simply give up. In short, the money isn't getting to those who need it, nearly fast enough. I believe this new initiative will make a difference in unlocking much-needed capital for adaption and mitigation. The costs of building sea walls or enlarging drainage systems are often simply too high.
The Hub will place national climate finance advisers for one to two years at a time in those countries receiving funds. Their job will be to help ministries to identify and apply for funding streams. Kiribati is a Pacific small island state with a population of 100,000 which needs multilateral funds for climate change mitigation or adaption. Its permanent representative to the United Nations, Makurita Baaro, says the enormity of the task puts governments off from applying for funds. She makes the point that the paperwork needed to apply for a US$100 million project or a US$20,000 one remains the same, and that needs to change.
International collaboration
The Hub is an innovative approach and one which will build on-the-ground capacity to access multilateral funds such as the Green Climate Fund, Adaptation Fund and Climate Investment Funds, as well as private sector finance. Regional organisations such as the Caribbean Community Climate Change Centre in Belize, the Pacific Regional Environment Programme in Samoa, Secretariat of the Pacific Regional Environmental Programme and the Indian Ocean Commission in Mauritius will collaborate, offering tailored solutions to often common situations.
The beauty of this collaboration is that these advisers will train people in the countries affected, creating a sustainable legacy. I expect that best practice will spread across Commonwealth states. Deep knowledge will be shared and since Commonwealth small and vulnerable countries have similar legal and governance systems, we will be able to create a toolkit which can be transferred island by island, state by state.
Since the Hub was opened, Antigua and Barbuda, Barbados, Dominica, Guyana, Jamaica, Mauritius, Namibia, Nauru, Seychelles, Solomon Islands, St Kitts and Nevis, Swaziland, Tonga and Vanuatu have all asked to access the funds. Namibia is one of the biggest and driest countries in sub-Saharan Africa. It has high climatic variability in the form of persistent droughts, unpredictable and variable rainfall patterns. These climatic changes impact considerably on social and economic conditions and climate finance can help mitigate the problem.
But is the money we are trying to raise enough? Last week at the International Monetary Fund in Washington DC, one of the world's leading experts on climate change told Commonwealth finance ministers that much more was needed. Professor Lord Stern from the London School of Economics said that investments of US$90 trillion were required and that the time for action was now. I agreed with him when he said that the window of opportunity is as narrow as two or three years. Many small and vulnerable countries in the Commonwealth are skilled in responding to climate shocks – after all they have been dealing with them for decades – and have built up resilience. They experience climate shock after climate shock with no time to recover.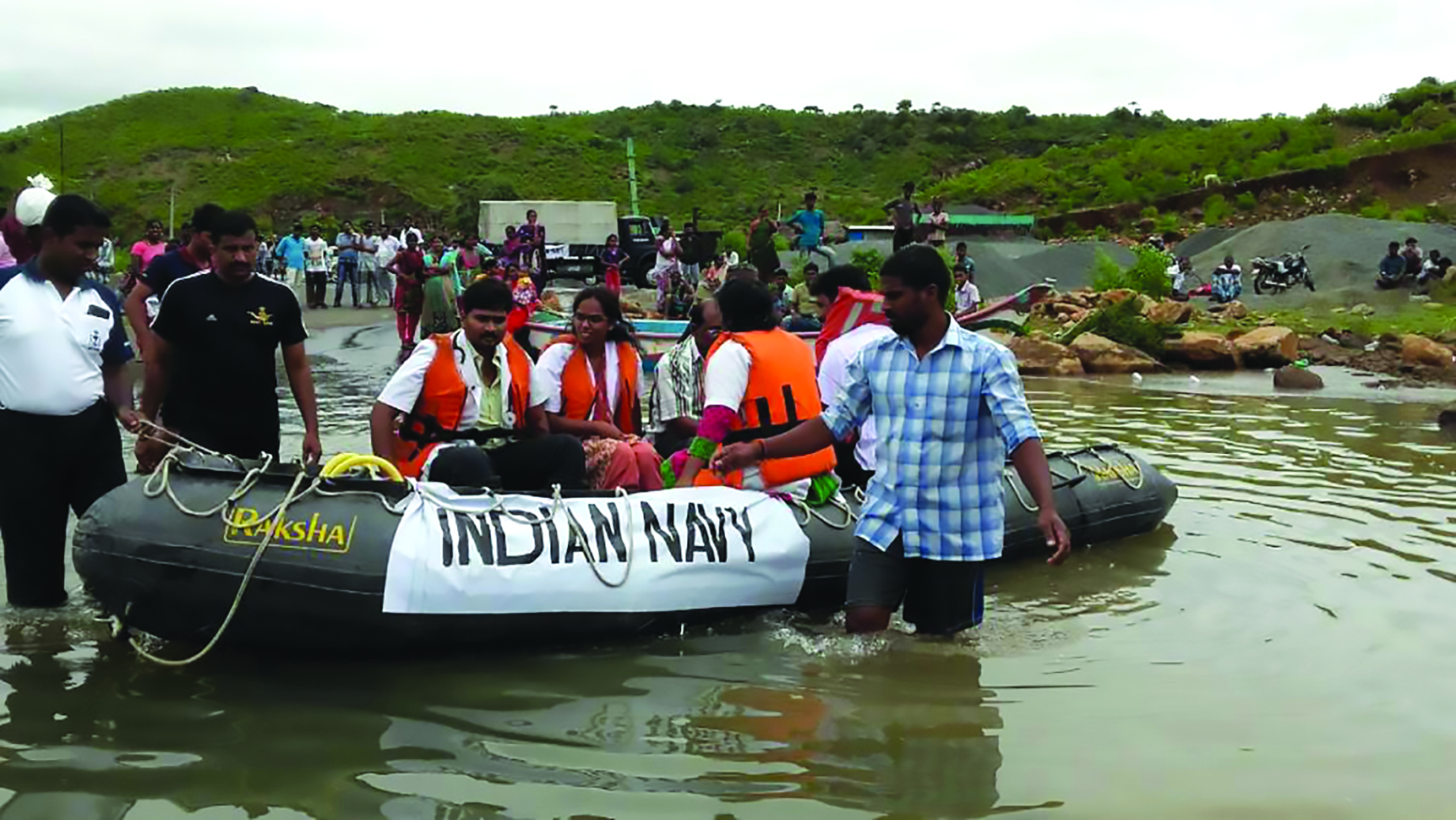 Scientific understanding
To make progress on this, I have invited a multi-faceted panel of climate change experts to work with the Commonwealth Secretariat to look at whether science can not only tackle climate change but also help us to reverse it. It is clear that the Paris climate change agreement is not going to be enough. The Commonwealth family led the way in ensuring that the rest of the world signed up to ensuring global temperature rises were kept well below 2°C. Yet the 1.5°C agreed target won't be of much help to nations like Kiribati and its 33 atolls and reef islands. Even with this target, its former president believes this small and vulnerable state will have problems. That is why he consulted United Arab Emirates engineers to see if it were feasible to create artificial islands to save the Kiribati people. COP21 was a good start upon which we must capitalise.
Enabling experts to put their minds to reversing climate change will lead to sound, integrated, programmes, capable of attracting the necessary funds to resolve the problems of member states facing intractable challenges. I believe reversing this existential threat is possible, but only if the whole of the international community acts as one in developing practical solutions which work.
My concern is that the depth of the understanding of the immediacy needed to stop islands from disappearing has not been adequately tackled. That is why I am ensuring that our Hub and Spoke Programme II has a more holistic approach when tackling climate change. The Hub advisers need to work closely with the agencies giving the money so they have a clearer appreciation of what countries need. For example, nations such as those in the Caribbean, among the most indebted in the world, have come to depend on expatriates sending money home in the form of remittances. Now with banks and financial institutions de-risking, pulling out because they perceive potential perils with the tightening up of regulations, or it simply not being cost-effective to trade, these remittances are going to be needed more than ever. The Hub can now come into its own. It is, if you will, one funnel which has the capacity and energy to help the whole.
The Commonwealth states in the Caribbean breathed a sigh of relief as Hurricane Matthew swept out of town and flew to America. But people like Conrad Jack know it was luck that they were left relatively unscathed and only a matter of time before they are pummelled, once again, by an unwanted visitor to their shores, disrupting and changing lives for ever. My work is clear: the Commonwealth Secretariat has to be better at providing collaborative, concrete, facilitative support for all our members so that we can really feel that, as a family, we have mechanisms which enable us to support each other in our hour of need. The Commonwealth Climate Finance Access Hub is only the start of that journey.
Read the full Climate Action 2016/17 Publication here