Ukraine 20 - 20 - 20 campaign
Our goal is fill and deliver 20 x 20 tonne trucks of aid into Ukraine in 20 days.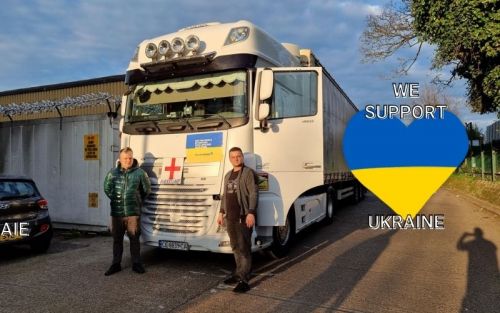 Please support our campaign to supply much needed aid directly into the humanitarian logistics hub in Lviv, Ukraine.
We need your help to fill 20 x 20 tonne trucks with the following items:
First Aid Kits
Tea, coffee, snacks
Bandages
Torches
Tourniquets
Socks, gloves
Thermal under layers
Thermoses
Canned foods
Dry foods
Feminine hygiene products
Blankets & sleeping bags
Climate Action are working with Ukraine logistics specialists Oddisey ltd and Ukay Express to pack 20 trucks of aid and deliver it directly into the humanitarian logistics hub in Lviv, where it will be distributed across Ukraine.
If you wish to deliver donations of 4 cubic meters or more, then please deliver to :
Oddisey Ltd
Unit 1
Cromwell Industrial Estate
Staffa Road
E10 7QZ
LONDON
UK
Please contact Jelena +44 203 4417857 info@ukayexpress.com
There will also be a weekly pickup on Thursday mornings from 8am to 10am, at the back entrance of our offices at 123 Buckingham Palace Road.
Pickup Point :
Bulleid Way,
Victoria,
London,
SW1W 9SH.
There is plenty of public vehicle parking on Bulleid Way, but bulkier items should be taken to the E10 drop off point.
Please sort and label your donated items into the above categories. If you know other local companies, community or charity groups that wish to donate aid, please spread the word.
We can organise pickups across the UK, for companies that wish to donate larger amounts of aid, in excess of 8 square meters.
For more information, or if you would like to sponsor your own truck at £2,000 per truck, please contact Maddy Watkiss: mwatkiss@climateaction.org
UKRAINE NEEDS OUR HELP