Shell chief calls for fossil fuel industry to join climate debate
Ben van Beurden addressed the oil industry on Thursday to highlight the role of fossil fuels in the transition to a low carbon economy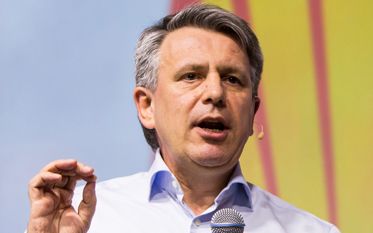 The chief executive of Shell addressed the oil industry on Thursday to highlight the role of fossil fuels in the transition to a low carbon economy and attacked some critics for peddling impractical solutions to climate change.
Ben van Beurden (pictured right) told delegates at the International Petroleum Week that energy companies should not "keep a low profile" in the debate on how to reduce greenhouse gas (GHG) emissions, but should accept the challenges being posed to the industry by international carbon reduction targets.
van Beurden said: "Our industry should be less aloof, more assertive. We have to make sure that our voice is heard by members of government, by civil society and the general public."
He argued that by staying quiet on the issue, companies aren allowing environmental campaigners to dominate the debate and control the agenda.
The Shell chief added: "For a sustainable energy future, we need a more balanced debate. Fossil fuels out, renewables in' - too often, that's what it boils down to. Yet in my view, that's simply naïve. Yes, climate change is real. And yes, renewables are an indispensable part of the future energy mix. But no, provoking a sudden death of fossil fuels isn't a plausible plan."
Major energy companies, including BP and Shell, are facing increasing pressure from shareholders to acknowledge the risks that climate change and carbon reduction policies could have on their investments.
Some investors have accepted the 'carbon bubble' hypothesis, which warns that the emergence of clean technologies and the increasing decarbonisation of economies along with the expected global binding climate deal could leave many fossil fuel companies with stranded assets.
A key UN summit is scheduled for December in Paris and world leaders are expected to sign a comprehensive, landmark global climate agreement.
In January, Shell indicated its support for a shareholder resolution that will see the firm provide more information on its environmental strategy.
Many within the industry, however, remain sceptical about the 'carbon bubble' theory and have defended new investment plans, claiming that demand for traditional fuels will remain high.
Shell has campaigned for governments to invest more heavily in carbon capture and storage (CCS) technology, which could allow the use of fossil fuels while cutting GHG emissions.
Environmental groups argue that CCS technology would only have a limited role in a truly decarbonised economy.
van Beurden's comments come as a newly released report from the International Energy Agency (IEA) predicts the recent drop in oil prices is unlikely to create a spike in demand, due to the scaling up of cleaner technologies and alternative fuels.
The Medium Term Oil Market Report stated that the drop in oil prices is expected to have a "marginal" impact on global demand: "Projections of oil-demand growth have been revised downwards, rather than upwards, since the price drop."
A recent study from the University College London Institute for Sustainable Resources, warned policymakers that the vast majority of fossil fuel reserves should remain in the ground, including a third of all oil reserves, half of gas reserves and 80 per cent of current coal reserves.