Quitting carbon: why the Maldives is going carbon neutral
President Nasheed discusses how the Maldives is trying to combat the problems faced by small island states in the face of climate change through recent government initiatives.
Many small island states and coastal areas are under extreme threat of inundation by rising sea levels and it is imperative a solution is found to prevent this. In this case study President Nasheed discusses how the Maldives is trying to combat the problems faced by small island states in the face of climate change through recent government initiatives.
The Maldives made a splash, when it held the world's first underwater cabinet meeting. The meeting was a light hearted event with a serious message: if the world fails to tackle the climate crisis and sea levels rise, low lying nations such as the Maldives will be holding all future meetings under water.
As well as headline-grabbing cabinet meetings, the Maldives has also adopted plans to become carbon neutral by 2020. We aim to jettison dirty fossil fuels and use clean, renewable energy for all our electricity needs.
Like our famous aquatic meeting, the carbon neutral policy is, in part, an attempt by a tiny nation to cajole polluting behemoths to clean up their act.
If the Maldives and its friends cannot persuade the Americas, Chinas and Indias of this world to curb emissions, we all face a watery grave. Our race towards zero carbon growth is not only powered by environmental considerations, however. At the heart of the policy lie fundamental economic and security concerns as well as issues of sovereignty and independence.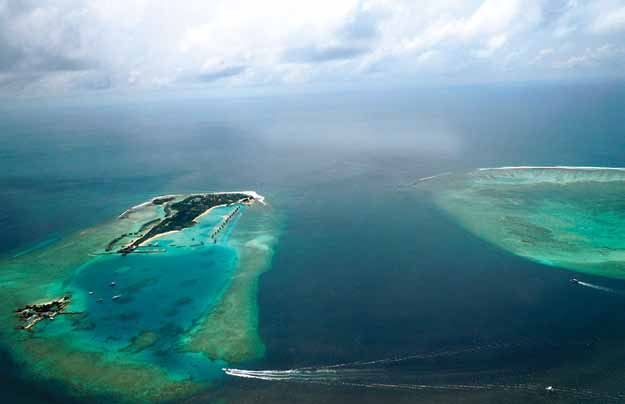 An oil addiction
Like America, the Maldives is addicted to foreign oil. Imported diesel and petrol is used to generate all our electricity and power all our marine craft, cars and motorbikes. Our oil addiction makes us highly vulnerable to oil price changes, over which we have no control.
The long-term price trajectory for oil is probably upwards. The surge in demand from emerging economies, coupled with relative inelasticity of supply, suggests high oil prices are here to stay. Moreover, most oil supplies hail from volatile parts of the world. The pro-democracy revolutions in Tunisia and Egypt and the ongoing demonstrations in other Middle Eastern countries have led to dramatic and unforeseen oil price spikes.
For the Maldives, grappling to control a large budget deficit inherited from its authoritarian past, these sudden oil price rises are severely damaging for public finances, currency reserves, economic growth and public wellbeing. The recent upward trend in oil prices since summer 2010 has cost the Maldives over US$250,000 per day in extra fuel bills. With the islands' tiny population, that works out to over 70 US cents per Maldivian per day.
Maldivians are a proud people. Ever since wandering sailors and seafarers first settled on these islands over 2,000 years ago, we have determined our own destiny and thwarted invasion attempts by foreign powers. The modern addiction to oil, however, and the economic risk and uncertainty that brings, seriously undermines national sovereignty. If there is a constant fear of economic collapse, because of crises in far away lands, can we really claim to control our future? We need an independence movement, to free us not from colonialism but from oil. Our carbon neutral plan is an act of emancipation from fossil fuels.
The attraction of renewables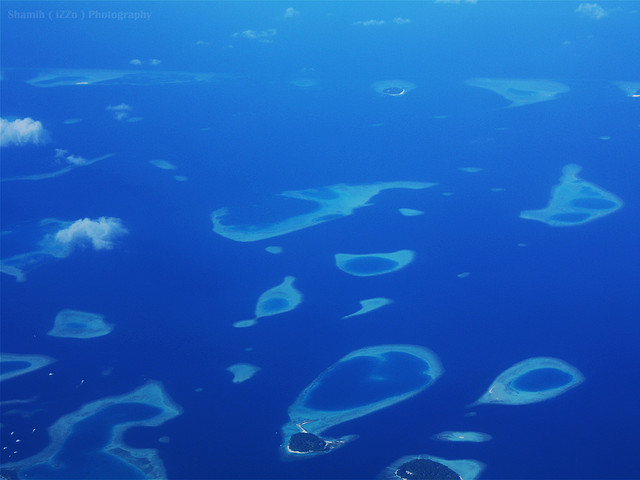 The Maldives is well placed to make the shift to a low carbon economy because oil is already so costly. It is expensive to ship diesel to the middle of the Indian Ocean, parcel it up into tiny amounts and transport it to hundreds of islands scattered across the sea. In the past, local importers have also been accused of inefficiency, incompetence and corruption, further raising the price of fuel.
Maldivian electricity prices are among the world's highest. We pay an average of 35 US cents per kilowatt-hour for electricity; in some remote islands this rises to 60 cents. Teachers complain that 25 per cent of school budgets are burned keeping the lights on and the classrooms cool in the tropical heat. Renewables are cost-effective today, without subsidy. Adopting low carbon growth also makes sense from a macroeconomic perspective. The Maldives is famed for its sun-kissed beaches and breathtaking coral reefs. Luxury tourism is our biggest industry, accounting for over 30 per cent of GDP. Many tourists visit the Maldives to dive, snorkel and swim in our pristine, azure waters. Our reef ecosystems also support our second biggest industry – fishing. Any damage to the reefs causes commensurate damage to the economy. Green growth, through renewable energy but also marine conservation and proper waste management, is a prerequisite to a healthy economy.
We hope greening the economy will also lead to innovation and the development of green industries. The Maldives is too small to be a major wind or solar manufacturer. We can, though, become pioneers in renewable energy for small, off-grid communities. If we can work out how to power a Maldivian island with renewables cost-effectively, we'll know how to power every village in China and India, too.
A vital role for the Commonwealth
The Commonwealth can play a vital role in helping member states become carbon neutral. One of the lessons learnt in the Maldives is the acute need for expert advice on renewable energy, so we can design the most appropriate and affordable energy systems.
Most developing country economies are still run on fossil fuels, and bureaucrats, technicians and engineers often specialise in high carbon energy systems. The Commonwealth could help by providing countries with world-class renewable energy and green technology experts, to help manage the transition to low carbon development.
Shifting towards a carbon neutral economy is not just born of environmentalism but also from concerns over security, economics and future prosperity. As climate change continues to worsen, the world will be forced, sooner or later, to tax carbon. When it does, those countries with a head start in the new, clean energy economy of tomorrow will prosper. Laggards, still addicted to oil, will see the cost of their drug increase without enjoying the benefits of being clean.
It makes sense for the Maldives to quit carbon. I suspect it makes sense for other countries too. I hope citizen, business and political leaders around the world seize the opportunities of the coming green revolution. That way, we can all enjoy security and success – and the world's first underwater cabinet meeting will also be the last.
This article was originally published in the Commonwealth Ministers: Reference Book 2011
To visit the Commonwealth Ministers website click here
Mohamed Nasheed is the first democraticallyelected President in the history of the Maldives. He was elected on 28 October 2008. President Nasheed's early political career was dominated by his non-violent struggle for democracy in the Maldives. Arrested, imprisoned and tortured on numerous occasions for his political activities, Nasheed is widely credited for playing an instrumental part in bringing freedom and democracy to the Maldives. President Nasheed won the 2009 Anna Lindh Prize, in recognition of his work promoting human rights, democracy and environmental protection. In August 2010, Newsweek named President Nasheed in its list of 'the world's ten best leaders'.
Image 01: Six Senses Slowlife Symposium
Image 02: Commonwealth Ministers: Reference Book 2011
Image 03: Easa Shamih | Flickr
Image 04: CA Stock Photo