New York City to divest from fossil fuels and sue companies for climate change
New York has announced unprecedented plans to divest the city's pension funds from fossil fuels within the next five years.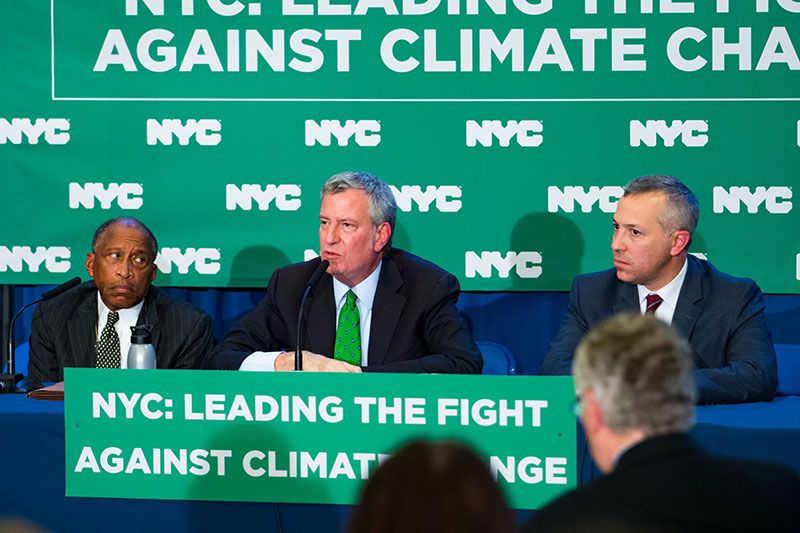 New York has announced unprecedented plans to divest the city's pension funds from fossil fuels within the next five years.
At a press conference yesterday, Mayor Bill de Blasio and his chief financial officer said that it will instruct the fund's trustees to find ways to remove these holdings in a responsible way that meet its current obligations.
The city currently has five funds with an estimated $5 billion in over 190 fossil fuel companies. The move was explained as vital to the city's workers: "we believe that their financial future is linked to the sustainability of the planet", said Comptroller Scott Stringer.
In a further dramatic move, Mayor de Blasio also announced that the city has filed a lawsuit against five companies deemed to have made the largest contributions to global warming. The city will seek billions of dollars in damages from BP, Chevron, ConocoPhillips, Exxon Mobil, and Royal Dutch Shell to protect New Yorkers from the impacts of climate change.

The money is seen as necessary to make New York more resilient against extreme weather events. The city is already spending over $20 billion to protect its citizens from rising sea levels, more powerful storms and increased temperatures.
Mayor de Blasio said: "New York City is standing up for future generations by becoming the first major US city to divest our pension funds from fossil fuels".
"At the same time, we're bringing the fight against climate change straight to the fossil fuel companies that knew about its effects and intentionally misled the public to protect their profits. As climate change continues to worsen, it's up to the fossil fuel companies whose greed put us in this position to shoulder the cost of making New York safer and more resilient."
Climate leaders responded with unbridled enthusiasm at the news. Bill McKibben, author and co-founder of 350.org, said: "New York City today becomes a capital of the fight against climate change on this planet".
"This is what climate leadership looks like," said Michael Brune, Executive Director of the Sierra Club. "To confront the climate crisis, we must hold corporate polluters accountable in the streets, in the boardrooms, and in the courts. In the absence of leadership from the White House, it's encouraging to see city and state leaders like Mayor de Blasio stepping up and taking meaningful action to defund the fossil fuel industry and fight climate change".
Greenpeace USA's Executive Director Annie Leonard also commented: "New York City's impressive leadership makes me hopeful for the future, and the possibilities we have for addressing climate change from the city and state level".
She added: "(Its) actions should be a galvanizing moment for cities around the world, and others should follow suit with ambitious plans and lawsuits of their own"

Image Credit: Office of the Mayor
Interested in learning more about sustainable finance? Join us in New York for the Sustainable Investment Forum North America on the 25th September 2019 for the latest insights from asset owners and managers, banks, development institutions, policymakers, think tanks and NGOs looking to drive the sustainability agenda.
Click here for further information.