Call for action as Bangkok climate talks get underway
The UN climate talks got underway in Bangkok yesterday (3 March) with a call for governments to take action against climate change. Christiana Figueres, UNFCCC Executive Secretary urged for a push to purposefully tackle the work agreed at Cancun last year, while addressing and meeting shortfalls in action.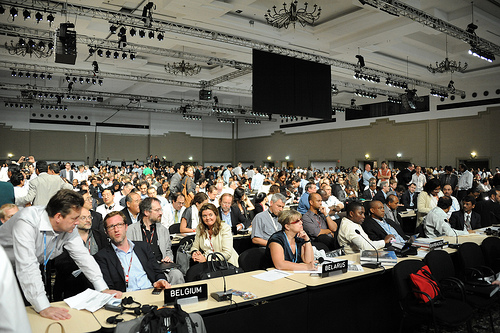 The latest round of UN climate talks got under way yesterday (3 March) with a call from Christiana Figueres, UNFCCC Executive Secretary for governments to address shortfalls from Cancun.

Speaking at the first UN climate meeting of the year, Figueres said that governments must purposefully tackle the work agreed in 2010 and push to address the shortfalls in action.

She said: "Here in Bangkok, governments have the early opportunity to push ahead to complete the concrete work they agreed in Cancun, and to chart a way forward that will ensure renewed success at the next UN Climate Change Conference in Durban. If governments move forward in the continued spirit of flexibility and compromise that inspired them in Mexico, then I'm confident they can make significant new progress in 2011."

The six days of talks, ending on Friday, will include informal workshops, and seek to build on an accord reached in Cancun in December last year. The key goal of this week's talks, according to Figueres is to set out a workplan for the year leading to the talks in Durban this November, making a concrete set of agreements possible.

Under the Cancun accord, more than 190 countries call for action to keep temperature from rising more than 2ºC above pre-industrial levels. They pledged cuts in greenhouse gas emissions, and agreed to a Green Climate Fund to help developing countries adapt to changes they face.

Figueres believes there are two main tasks for 2011. The first relates to emissions targets, saying current estimates show countries are only hitting 60 per cent of what scientists say are needed to reach targets set out at Cancun.

She said this year needs to go some way to resolving the issues of the future of the Kyoto Protocol, which remains the only existing agreement between industrial nations over commitments to reduce emissions.

Secondly Figueres called on governments to work rapidly to complete the institutions that were agreed last year in Mexico including the Green Climate Fund and a Technology Mechanism to promote green technologies.

Detailed discussion on the launch of the Technology Mechanism began today in Bangkok (4 April) and a second workshop looking at developing country mitigation actions and the support they might need will also take place today. A UNFCCC workshop took place yesterday, on the first day of the conference, looking at the industrialised countries' emissions targets and conditions required for meeting them.

Figueres said: "These discussions are important, because they have started to shape governments' ideas on how to create a transparent, rule-based global emission reduction framework, with delegates looking at the specifics of enhanced accountability and transparency for both developed and developing countries. At the same time, whilst the discussions can help the process forward, they have also revealed a shared understanding that the current level of ambition to cut emissions is clearly not enough and definitely needs to be raised."

The conference, taking place all this week, is being attended by around 1500 participants from 173 countries including government delegates, representatives from business and industry, environmental organizations, and research institutions.
Image: UN Climate Talks | flickr