UN Environment Assembly a chance for "implementation and delivery" of Paris Agreement and SDGs
Leading companies in the solar power sector will participate at the United Nations Environment Assembly (UNEA) in May as part of global efforts to achieve the Sustainable Development Goals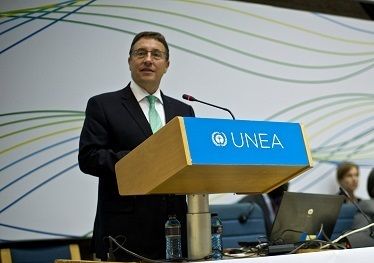 PRESS RELEASE - London, 06 April 2016 - Leading companies in the solar power sector will participate at the United Nations Environment Assembly (UNEA) in May as part of global efforts to achieve the Sustainable Development Goals and boost access to energy in Africa.
The Assembly will take place at the headquarters at the UN Office of Nairobi in Kenya and will bring together over 1,000 delegates including heads of state and ministers of environment, energy and agriculture in the wake of December's Paris Climate Summit.
Solar energy has been cited by a number of governments as a means to achieving their commitments under the historic Paris Agreement to reduce greenhouse gas emissions and prevent dangerous levels of global warming.
The UNEA will also work towards achieving the Sustainable Development Goals (SDGs) that were agreed by world leaders in New York in September. They include targets to boost renewable energy development, improve energy efficiency and catalyse climate finance for developing countries.
UN Under-Secretary-General and Executive Director of UNEP Achim Steiner (pictured) said: "2016 has been called the year for implementation and delivery. UNEA-2 is our chance to show…readiness and commitment to achieving the Sustainable Development Goals."
As discussed in the recent Climate Action webinar , 620,000,000 people in Africa also still have no access to energy - much higher than previous estimates.
According to the Africa Progress Panel, Solar power is Africa's most abundant but least utilised source of energy, with potential capacity as high as 10 Terrawatts, creating a vast opportunity for low carbon development opportunities across the continent.
Sponsored Content
The overarching theme of UNEA-2 is 'Delivering on the environmental dimension of the 2030 Agenda for Sustainable Development' and up to 15 private sector companies will showcase cutting edge clean technologies as part of the Sustainable Innovation Expo 2016 (SIE16).
SIE16, organised by London-based Climate Action and UNEP, will be a key part of the Assembly and will give clean technology firms a unique platform to engage with decision makers from governments, development banks and UN agencies.
Solar energy companies including SunEdison, Solar Reserve, Solea, and SunErgy previously participated at the meeting and demonstrated their technologies to attendees.
Media Contact:
Lindsay Baxter
Phone: +44 (0) 20 7871 0123
lbaxter@climateactionprogramme.org
About Climate Action
Established in 2007 and headquartered in London, UK, Climate Action works in a unique, contractual partnership with the United Nations Environment Programme (UNEP) – the world's foremost body on environmental protection and stewardship.
Climate Action establishes and builds partnerships between business, government and public bodies to accelerate international sustainable development and advance the 'green economy'.