The innovation race: How technology is driving sustainability in sport
The sports industry is increasingly placing sustainability at the heart of its agenda, presenting huge opportunities are being created for directly reducing emissions through sustainable technology innovation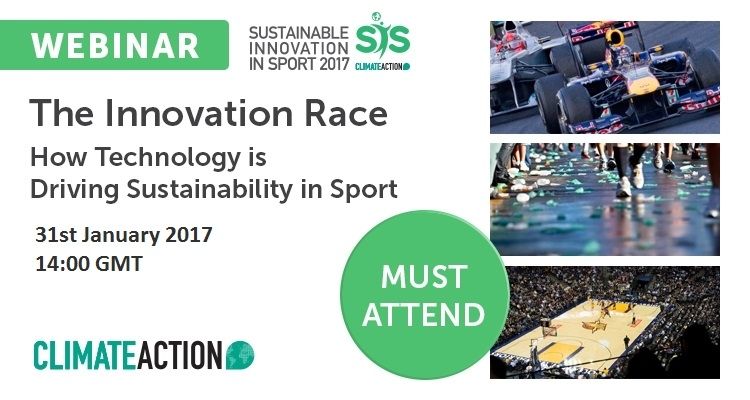 PRESS RELEASE - London, UK - 14 February 2017 - The sports industry is increasingly placing sustainability at the heart of its agenda, presenting huge opportunities are being created for directly reducing emissions through sustainable technology innovation. From renewable energy, energy-efficient lighting and electric vehicles (EVs) to alternative and recycled materials, water irrigation and waste reduction, technologies can have a significant 'greening' impact on the sports industry.
An increasing number of sporting organisations, events and clubs are beginning to adopt sustainable practices and technology advancement in transportation has the ability to dramatically reduce the emissions related to travelling to and from sporting events and sports.
In the latest Climate Action webinar, Julia Pallé, Sustainability Manager at the FIA Formula E Championship – the world's first fully-electric racing series and Susie Tomson, Sustainability Manager, Land Rover BAR America's Cup Team discussed how technology can be harnessed to promote sustainability in sport.
Driving innovation
Formula E and Land Rover BAR are world leaders in pioneering sustainability in sport through adopting innovative technologies. Formula E is founded on the concept of sustainability and aims to offer a solution to air quality issues in cities centres. While Land Rover BAR is one of the world's most sustainable sport teams, placing sustainability at the heart of its operations.
Julia began by recognising the challenges to the EV market, including fears over battery life and lack of charging infrastructure. She went on to outline the ways in which Formula E is breaking these barriers; for example their encouragement of host cities' installation of EV charging stations, its support of the development of wireless chargers and its commitment to double the already 25 per cent increase in battery life between its third and fifth seasons.
She went on to highlight that the championship is more than a platform to showcase the benefits of EVs but also a development test bed, constantly testing and improving EV technology. Formula E is committed to powering its cars with a virtually zero emission and 100 per cent renewable fuel, using their revolutionary Glycerine Generators. Furthermore, the organisation's Roborace puts driverless personalities under the ultimate test to accelerate their technological development.
Susie outlined a number of technologies used within the design process of Land Rover BAR's racing boats. The team has developed their boats' original wing butt so that it re-uses the water ballast required each time the wing is hoisted and rigged, saving a remarkable 28,000 litres of water in 2015. In addition, the team is constantly pursuing more sustainable materials, including its use of recycled PET making up the boats' core of the hull, natural flax fibres in the floor and a bio-based resin. The result is a boat built with sustainability in mind, powered entirely by the wind and which is capable of going more than two and a half times faster than the wind.
Engaging with fans to inspire the future
Technology can also serve as a means to engage with and inspire fans, influencing them to instil sustainable practices in their own lives. Through their sports, legacy programmes and digital channels, both Formula E and Land Rover BAR are raising awareness and inspiring change in order to reduce global emissions and our impact on the environment.
The utilisation of media platforms has a profound effect on fan engagement. In response to a question from the audience, Julia used the example of Formula E's "fan boost" which marries together technology and fan engagement. The fan boost enables people to vote for their favourite driver via mobile app or the Formula E website. The three drivers with the most votes are rewarded with an additional 100 kilojoule (kJ) boost of energy, giving the audience the opportunity to influence the race while it is happening!
Sponsored Content
Formula E has also used high-impact messages to reach more people and raise awareness of the issues of climate change; for example driving one of their racing cars on the Arctic ice cap. The event was a prime opportunity to showcase the capacities of electric car technology and simultaneously raise awareness on the record-breaking amount of sea ice that has broken away from the Arctic last year alone.
Susie offered the example of Land Rover BAR's "tech deck" – based at the team's home in Portsmouth – as a way to interact with fans on a smaller but more intensive scale. Visitors are offered a unique behind-the-scenes experience with hands-on interactive opportunities, enabling visitors to get close to the boats, people and technologies behind the team that is bringing the America Cup home to Britain.
The Power of partnerships
Both speakers stressed the importance of partnerships when delivering sustainable innovation in sport through providing invaluable research, experience and technology.
Julia affirmed that all the research on technology and sustainability is made possible thanks to the Formula E partners. For example, Qualcomm's wireless EV charging technology is helping the championship deliver its vision of a 100 per cent EV world, and DHL who are helping to deliver Formula E's sustainable race calendar as well as providing fast, efficient and environmentally conscious transportation for all vehicles associated with the event.
Susie also emphasised that more can be achieved when working with partners. She pointed to the instrumental impact that 11th Hour Racing – which has been Land Rover BAR's sustainability partner from the outset – has had on the team as well as being responsible for a number of legacy projects including a project to raise awareness on the global issue of invasive species, namely the lionfish in Bermuda. The team also partnered with the global brand Angel poise to investigate how manufacturing waste made out of carbon fibre test panels could be upcycled to create desirable products, promoting a circular economy.
Sustainable Innovation in Sport
In conclusion, Julia and Susie's commentary confirms that technology is driving sustainability in sport and that these innovations, with the support of strong partnerships, are helping to promote sustainability in the sport industry and in the everyday lives of fans. In response, Climate Action introduces the Sustainable Innovation in Sport forum – a two day event which will take place in Munich next week (22nd-23rd February 2017). The high-level meeting will bring together stakeholders in the global sports sphere, to discuss the unique opportunity that the realm of sport offers the climate change effort, with the aim of driving momentum and creating the necessary platforms and partnerships to establish a truly sustainable sport sector.
For more information visit http://www.sustainableinnovationinsport.org/
View the full webinar here