World's most sustainable football club wins league promotion
Gloucestershire-based football club Forest Green Rovers (FGR) that is dedicated to becoming the most sustainable football club in the world has just secured a promotion the English Football League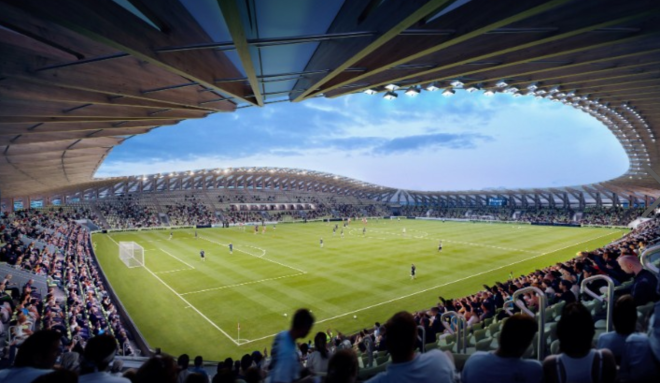 Gloucestershire-based football club Forest Green Rovers (FGR) that is dedicated to becoming the most sustainable football club in the world has just secured a promotion the English Football League.
The Gloucestershire club beat Tranmere 3-1 in the National League play-off final at Wembley, securing it a place in the Football League for the first time.
The victory provides club with a new national platform to showcase its environmental efforts.
The club was bought by solar and wind provider Ecotricity owner, Dale Vince, back in 2010.
Since then the club has introduced a series of initiatives to reduce the impacts of their activities on the environment.
Solar panels have been installed on the roof in addition to ground-mounted solar powered car ports at the club's ground, known as The New Lawn.
These panels are visible to all fans entering and leaving the stadium, further cementing the greenness of the club among the fan base as well as reducing the club's carbon footprint.
The pitch is irrigated with a mixture of rain, drain and spring water in order to make the pitch independent from the water mains and the use of all pesticides and manmade chemicals are prohibited.
The ground also hosts electric vehicle (EV) charge points to make it easier for players and visitors to use electric vehicles.
The club is creating an eco-education centre at the New Lawn which will highlight the club's eco-message, raising awareness about the importance of sustainability and empowering people with demonstration and information, to change their own lives.
Moreover, plans are now underway to build a new 'eco-stadium' made entirely from sustainable timber – costing an estimated $123 million.
Vince told the Guardian that his decision to join the club was to take his message to a new audience.
He said: "The world of football doesn't really get spoken to on environmental issues. I thought we could use it as a new channel, and quite an unexpected one, to talk about sustainability."
He went on to say: "We are a very cohesive, happy club. Environmentalism is like a tide in human affairs, it's kind of unavoidable. It's just when it happens in different sectors. We like to be at the forefront of an area that needs change, and football is certainly one of those."
Check out our infographic on sustainability in stadiums here.
To watch all the action from this year's Sustainable Innovation in Sport Forum click here or check out the event highlights here.
Image source: Computer-aided design of the interior of the planned Forest Green Rovers stadium. (Courtesy Forest Green Rovers and Zaha Hadid Architects)