UN chief calls for $100bn to reach sustainable energy targets
Ban Ki-moon calls on business leaders to scale up investment in low-carbon growth to meet a $100 billion a year pledge from wealthy nations to support climate action in developing countries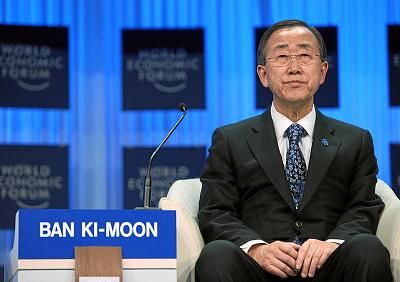 The head of the United Nations, Ban Ki-moon, has called on business leaders to scale up investment in low-carbon growth to meet a $100 billion a year pledge from wealthy nations to support climate action in developing countries.
Addressing the Future of Energy Summit 2015 on Thursday, Ban said: Energy is a story of global progress," Mr. Ban Ki-moon said. "Smart investors are opening new markets, facilitating new business models, and supporting entrepreneurs in developing countries."
Highlighting the fact that global investment in clean energy was up more than 15 per cent in 2014 compared to 2013 levels, with investments in developing nations growing by more than a third, he noted that renewables still only power less than 10 per cent of global electricity.
An estimated one in five people worldwide currently lives without access to electricity, and around 40 per cent of the global population relies on wood, coal, charcoal or animal waste to cook and heat their homes.
Ban also noted that the new UN-led Global Energy Efficiency Accelerator Platform is aiming to double energy efficiency by 2030, save more than a gigaton of carbon emissions annually and save billions of dollars.
Recalling the announcement made at the UN Climate Summit in New York last September that business leaders planned to mobilise over $200 billion towards low-carbon and climate-resilient development, Ban said: "These significant sums are just part of what is possible. I count on your help to realise the enormous potential out there."
The UN chief also called for carbon pricing, scrapping ineffective fossil fuel subsidies and enhanced energy efficiency standards.
Ban also announced that the UN will host the second annual UN Sustainable Energy for All Forum in May in New York, working with the World Bank among other key partners.
The first-ever Global Energy Ministerial will be held on 20 May, gathering leaders from government, business and civil society for cutting-edge discussions on key energy issues, including financing.
The Sustainable Energy for All (SE4All) initiative was launched by the UN Secretary-General in 2011 and the multi-stakeholder partnership's three global targets are to ensure worldwide access to modern energy services, to double the rate of improvement in energy efficiency and to double the share of clean energy in the global energy mix, all by 2030.
Kandeh Yumkella, the Special Representative of the Secretary General and Chief Executive of the Sustainable Energy for All Initiative (SE4All), also spoke at the summit and urged the private sector to take the opportunity of innovating and investing to help the initiative achieve its objectives.
Mr. Yumkella said: "The speed and scale of interventions we need to transform our current energy system and ensure shared prosperity lie in the private sector."
Addressing the upcoming UN Climate Change Conference in Paris later this year at which more than 190 are due to agree a historic binding climate agreement, Ban said the talks "will only succeed with a strong, credible finance package."
The Future of Energy Summit was organised by Bloomberg New Energy Finance (BNEF) and brought together more than 1,000 energy-industry investors and executives.