The world's first floating wind farm commissioned in Scotland
Scotland's First Minister Nicola Sturgeon inaugurated the world's first floating offshore wind farm, another first for the Scottish dynamic offshore wind potential.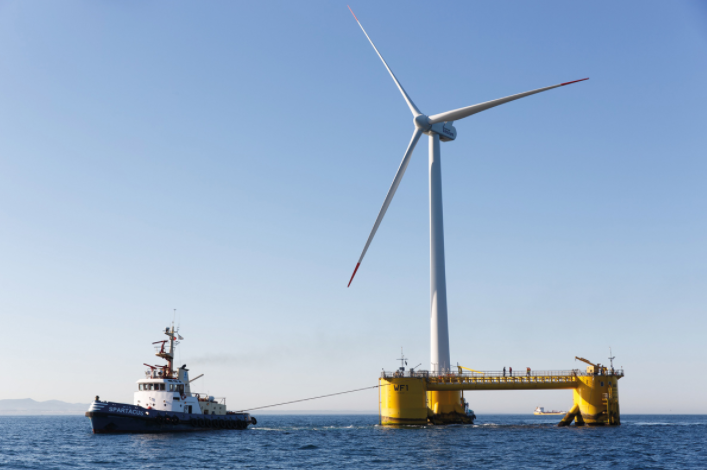 Scotland's First Minister Nicola Sturgeon inaugurated the world's first floating offshore wind farm, another first for the Scottish dynamic offshore wind potential.
The 30MW project is located 15 miles (25km) off the shore of Peterhead, Aberdeenshire.
The power project developer is the Norwegian state-owned Statoil, which has been working on the Hywind project for more than 15 years, in partnership with Masdar.
The pilot floating wind farm comprises four 172- meters turbines positioned in water depths of up to 129 meters.
Another innovative element of the Hywind Scotland project is that it will be linked to 1MWh Lithium battery storage solution for offshore wind energy.
The innovative floating approach will allow wind farms to be developed in much deeper waters than conventional offshore wind farms, which are usually placed in water depths of up to 50 meters.
According to the developers, part of the project's success was the ability to leverage existing infrastructure and supply chain capabilities from the Scottish offshore and Oil & Gas industry.
For example, the onshore operation and maintenance base will be located in Peterhead drawing on resources from Statoil's existing office in Aberdeen.
First Minister Nicola Sturgeon said: "Scotland has developed an international reputation for modern, renewable energy technologies and Hywind Scotland – the world's first floating wind farm – is a testament to that".
She added: "Last month I set out our Programme for Government which made firm commitments to create a cleaner and greener Scotland, and the development of renewable energy is vital to achieving this".
Paul Wheelhouse, Scottish Minister for Business, Innovation & Energy twitted that the power project, as a world first, will play a critical role in demonstrating the potential of floating wind in Scotland's deep waters.
Irene Rummelhoff, Executive Vice President of the New Energy Solutions business area in Statoil drew attention to the cost of floating wind farms by stating:
"Statoil has an ambition to reduce the costs of energy from the Hywind floating wind farm to € 40-60 €/MWh by 2030".
"Knowing that up to 80% of the offshore wind resources are in deep waters (+60 meters) where traditional bottom fixed installations are not suitable, floating offshore wind is expected to play a significant role in the growth of offshore wind going forward".
The project has been welcomed by environmental groups too.
Gina Hanrahan, Acting Head of Policy at WWF Scotland commented: "With around a quarter of Europe's offshore wind resource in Scotland, it's great to see the world's first floating wind farm inaugurated off our coast".
She stated that with the UK already being a leader in offshore wind actively driving down costs, it can do the same with this niche technology.
"By demonstrating the commercial viability of floating wind, Scotland can help to develop the industry in new frontiers and deeper waters".
Gina Hanrahan added: "With this kind of innovation and investment and continued political support, Scotland will continue to power towards our target of securing half of all our energy needs from renewable sources by 2030".
The pilot project followed the successful operation of a prototype installed off the island of Karmøy in Norway.
Watch the video with the whole development process of the landmark Hywind Scotland project here.
Nicola Sturgeon, First Minister of Scotland and leader of the Scottish National Party, will be contributing to the panel discussion on Accelerating the Energy Transition and showcasing the Country's commitment to a sustainable future during the 8th Sustainable Innovation Forum. The Forum, organised in partnership with the UN Environment, is the largest business-focused event taking place during COP23, 13 – 14 November in Bonn and brings together 600+ Ministers, CEOs, Mayors, Responsible Investors and many more for two days of capacity building, networking, collaboration and deal making that will galvanise and fast track the green economy. For more information and to register, please visit: http://www.cop-23.org