Paris Agreement update: 60 countries have ratified
Yesterday, more than 20 countries officially ratified the Paris Agreement at the UN General Assembly ceremony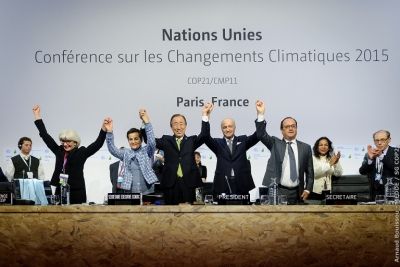 Yesterday, more than 20 countries officially ratified the Paris Agreement at the UN General Assembly ceremony.
The ratification of the climate deal is legally binding and requires countries to attend global climate summits, and submit plans and targets to fight climate change to be published on the UN website.
Jonathan Pershing, the American climate envoy, credited peer pressure and public scrutiny for the recent update: "If I'm Singapore and I see China's doing it, that leads me to do it... If I'm a Latin American country and I see Mexico's doing it, I'll do it too."
As of today, 60 countries have ratified the agreement, but they only represent 46 out of the necessary 55 per cent of global emissions.
During yesterday's ceremony, several nations representing 12 per cent of emissions announced their will to submit their ratifications by the end of 2016, which would enable the pact to take effect.
For example, UK Prime Minister, Theresa May announced that the UK will ratify the Paris Agreement by the end of 2016, and continue its action against climate change despite Brexit.
She said in New York: "[The UK remain determined to] play our part in the international effort against climate change … In a demonstration of our commitment to the agreement reached in Paris, the UK will start its domestic procedures to enable ratification of the Paris agreement and complete these before the end of the year."
Ban Ki-moon, the United Nations Secretary General said: "What once seemed impossible now appears inevitable."
Erik Solheim, director of the United Nations environment program said: "If enough countries start implementing the Paris agreement, historians will see this as a watershed moment... But if we don't implement it, this will just be bringing a bunch of politicians together around a piece of paper."
Christoffer Ringnes Klyve, Director of climate and environment programs at Future in Our Hands, a Norwegian advocacy group said: "Obviously, ratifying Paris quickly is better than doing it slowly... But there are lots of problems with the Paris agreement, and lots of problems with the countries that are ratifying it not having the faintest idea how they're going to achieve the goals."
During COP22 in Marrakech next November, a crucial question will be evoked: rich countries have pledged under the Paris deal to help poorer countries adapt to climate change and develop new clean energy technologies with $100 billion annually, but there is already resistance in several countries and diplomats fear that the promise will not be kept.