New wind test site secured by EDF Energy Renewables
EDF to develop the Blyth Offshore Wind Demonstration site in the UK to test new turbines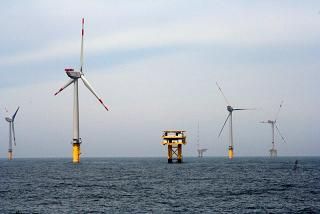 French energy giant EDF has announced it will develop the Blyth Offshore Wind Demonstration site in Northumberland, highlighting the company's commitment to the offshore wind sector.
EDF Energy Renewables, the company's renewable energy division, confirmed on Friday that it has acquired the seabed rights for the project from The Crown Estate, and associated land rights and meteorological data from the Offshore Renewable Energy (ORE) Catapult.
The site, around five to 10 kilometres offshore from the port of Blyth, is the largest offshore wind testing facility in the UK accommodating up to 15 turbines.
It will provide EDF Energy Renewables developers with a testing area to install and examine new turbines.
Research & development (R&D) is seen as crucial to the future of the offshore wind industry and is essential as developers struggle to meet the government's target of reducing 50 per cent of offshore wind power costs by 2020.
They are aiming to meet the target through the development of larger and more efficient turbines and inventive foundation technologies including the new floating turbines designs.
On the other hand, the segment is still confronted with challenges, particularly focusing on the conditions that the offshore wind farms require in order to operate as well the plans to develop the next project even further out to sea in deeper water.
The Chief Executive of EDF Energy Renewables, Christian Egal, said: "Offshore projects present their own unique challenges for developers and having the opportunity to install, and operate much larger machines than we've done previously could give us vital experience to take to other projects around the UK and other EDF sites abroad. As a company, we already have a large presence in the North East, including EDF's first offshore wind farm just down the coast at Teesside. So we're really pleased to be able to add another potential project to our portfolio in a region which is becoming a real power house for the UK energy industry."
Huub Den Rooijen, Head of offshore wind at The Crown Estate, said: "Having an experienced developer like EDF on board is an important step towards unlocking the potential of this site, and enabling new innovations that build on the UK's reputation as a world leader in this sector,"