Leonardo DiCaprio Foundation pledges $2m to ocean protection charity
Leonardo Dicaprio collaborates with charity to develop future initiatives in protecting the world's five oceans.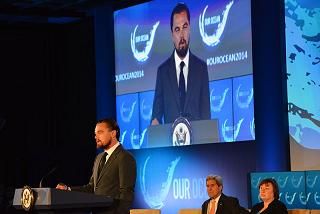 The Leonardo DiCaprio Foundation (LDF) has pledged US$2 million to Ocean 5, a New York-based public charity that works to protect the world's five oceans, and the finance will assist Ocean 5 in addressing overfishing and establishing marine reserves.
Ocean 5 is a Rockefeller Philanthropy Advisors charity and the LDF investment will support schemes that promote large protected areas in the Pacific Islands and the Arctic while simultaneously improving fish hatcheries in Europe, the United States and Central America.
The international organisation is in partnership with Oak Foundation, Planet Heritage Foundation, Marisla Foundation, Waitt Foundation, Leonardo DiCaprio Foundation, Moore Charitable Foundation, Angell Family Foundation and Bill and Shannon Joy.
Chairman of the Geneva-based Oak Foundation, Kristain Parker said: "The Leonardo DiCaprio Foundation is a valued partner of Oceans 5. "Leo's personal commitment is phenomenal. He brings enormous energy and enthusiasm to our work for the oceans."
The support from LDF also assists in creating large marine monuments in Pacific waters in the United States and further measures to protect Antarctica as well as the protection of threatened shark populations.
According to Leonardo DiCaprio "ocean 5 is an exciting new platform for marine conservation. Working together with other philanthropists, we are making smarter, more impactful investments for the future of our planet".
He said: "The sad truth is that less than two percent of our oceans are fully protected. We need to change that now. My Foundation supports Oceans 5 projects that are directly improving ocean health by stopping overfishing and creating marine reserves."
DiCaprio is also associated with six organisations which focus their efforts on securing global trade restrictions for endangered sharks.