Government promotes EV charging points to meet green vehicle trend
A move announcing intentions to build charging points for electric vehicles (EV) on streets and in outdoor car parks, without the need for planning permission, was announced by the UK Government yesterday (3rd January 2011).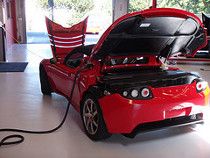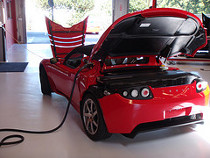 A move announcing intentions to build charging points for electric vehicles (EV) on streets and in outdoor car parks, without the need for planning permission, was announced by the UK Government yesterday (3rd January 2011).

Ministers are urging councils to promote EV charging points in new developments, without making developments unaffordable. The proposal hopes to encourage greater use of electric and plug-in hybrid vehicles.

It is anticipated that by encouraging thousands of charging points to be built across the country, faltering sales of electric cars with be aided. Experts have hailed 2011 as a breakthrough year for electric cars as mass-market manufacturers roll out new models.

The electric Nissan Leaf and the hybrid electric Chevrolet Volt are two of the finalists for the 2011 North American Car of the Year competition, with the winner due to be announced this month. The cars have received positive reviews from multiple car magazines indicating an optimistic EV future.

A recent survey conducted for Carbuzz.co.uk showed that just one per cent of drivers prioritised low CO2 emissions over other features when buying a car, however the desirable cost of low carbon cars is what is attractive to consumers.

Although more expensive to buy, electric cars are cheaper to run than conventional ones. Edmund King, the AA's president, said a car such as the Leaf would cost 2p per mile to charge and run, compared to around 14p per mile for a similar-sized petrol or diesel car. They also pay no vehicle excise duty, have cheaper insurance premiums, are exempt from London's Congestion Charge and can be charged for free at some public car parks.

The Government believes the move will build on the launch of eco-friendly car grants available to green motorists from this month. The Plug-In Car Grant will reduce the cost of eligible cars by a quarter, up to a maximum of £5,000.

Motorists will have a choice of just one subsidised car to buy outright as the project is launched – the Mitsubishi i-MiEV – but should have a choice of nine or 10 fully electric and plug-in hybrid cars by 2012. The subsidy survived the coalition's cuts with the proviso that it will be reviewed in 2012, so only the first year of funding, £43m or 8,600 cars, is guaranteed.

Among the first available to buy will be the Nissan Leaf in March, which is billed as the first mass-market electric car. It is currently being made in Japan and will be made in Sunderland from 2013 onwards.

"This is a breakthrough year," said Chris Paine, director of the cult documentary, Who Killed the Electric Car? "In the first time in 90 years, people will actually have a chance to buy electric cars from major carmakers. Tesla, Nissan and GM are first out of the gate and almost every other car company has announced plans to join the race in 2012 and beyond. That's what makes the next few years so exciting."

Communities and Local Government Secretary Eric Pickles said: "Over the last decade, motorists' lives have become a misery, with politicians failing to address people's aspirations to own cars. With 84 per cent of journeys made by car, instead of pointlessly penalising drivers we want to make it easier for car owners to make greener choices on the road.

"We know people want to buy into the eco friendly car, but they need their politicians to catch up and bring in the infrastructure that makes it a feasible option. That's why we are today urging councils to include charging points in new developments and the Government will relax the need for planning permission for electric charging points on streets, walls and in car parks."

According to the Department for Communities and Local Government, the US gives motorists a $7,300 (£4,708) tax credit for cars such as the Volt and Leaf, China offers electric car-makers £4,721 per car and France has a €5,000 (£4,240) grant scheme.

While just 55 electric cars were sold in the UK in 2009, with buyers holding off until today's grants took effect, the government's climate advisers, the Committee on Climate Change, says the country needs 1.7m of them by 2020 to help meet the country's tough carbon targets. However, analysts caution that electric cars' breakthrough in 2011 may be more symbolic than substantial.

Currently, public charging points to top up the cars are in short supply, with just a few hundred in the UK, mostly in London. The Government scheme, along with grants, proposes an encouraging future for EV.

The Green party leader, Caroline Lucas, welcomed the move but warned that eco-friendly cars are "only as green as the electricity they run on". Lucas said: "Ministers must take action as well to boost the renewable energy industry."
Author: Marianna Keen | Climate Action
Image: theregeneration | Flickr