Mary Robinson on what steps need to be taken to ensure COP26 is a success
Ahead of the COP26: A Decade to Deliver Virtual Panel, Climate Action caught up with Mary Robinson, Former-President Ireland and Chair of the Elders, to discuss what steps need to be taken to ensure COP26 is a success.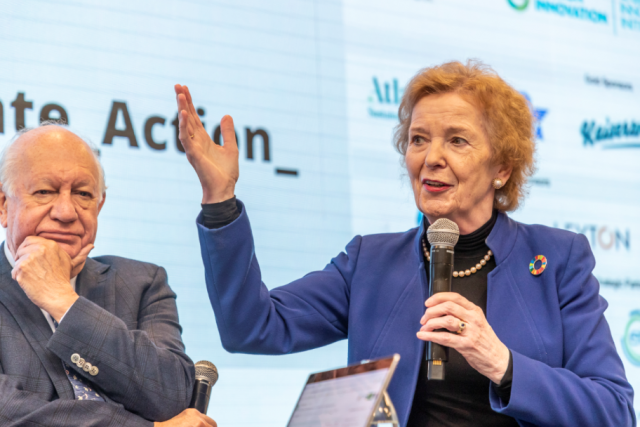 Ahead of the COP26: A Decade to Deliver Virtual Panel on Thursday 14 May at 4pm BST, Climate Action caught up with Mary Robinson, Former-President Ireland and Chair of the Elders, to discuss what steps need to be taken to ensure COP26 is a success.
2020 was set to be a significant year for global climate action, nature and biodiversity. How has the coronavirus pandemic affected climate and environmental diplomacy?
The devastation caused by this virus has caused disruption in all walks of life – it has highlighted the inequalities in access to basic rights, in security of livelihoods and in the resilience of societies and the international community to come together when the need arises. We can see that these issues are all parallel to those with which we must grapple to overcome the climate crisis. 2020 was the year we were supposed to be taking bold climate action.
At the beginning of the year I was downhearted – there was no sign of the leadership that we need to meet the climate commitments. However, the strength of the response to the coronavirus by ordinary people who are making daily choices based on how their actions will impact the vulnerable or those on the front lines of this crisis has been incredible. The capacity to respond to crisis has given me hope that we are able to organise effectively to counter the climate crisis.
Adapting to digital diplomacy has been challenging and it is vital that we hear the voices of those from countries where reliable internet access cannot be taken for granted. The gatherings that were scheduled for 2020 have rightly been postponed to protect public health. However, events like the Placencia Ambition Forum and the Petersberg Dialogue at the end of April demonstrate that leaders are still committing themselves to a green transition.
The postponement of large international gatherings such as COP26 and the Biodiversity COP are far from ideal as we enter the decade to deliver. But the delay has given all stakeholder involved more time to prepare. What would you like to see done with this 'extra-time' and what needs to be done to make COP26 the pivot point we need it to be?
It is crucial that we don't waste this time. Climate change is affecting people around the world right now. The Elders have been championing blogs written by young climate activists. One young women,Vanessa Nakate from Uganda, drew attention to this reality so powerfully in her writing. We need to listen to climate vulnerable states, to indigenous peoples, to women and youth, to ensure the global community is supportive of their needs. This includes commitments and action on the provision of climate finance.
The decisions that countries make right now as they relate to economic stimulus packages and bailouts put us at a fork in the road: leaders must ensure that climate-positive policies and investments lie at the heart of COVID-19 response measures and stimulus packages. This will facilitate raising ambition from both governments and real economy actors in the lead-up to COP26. We must maintain pressure against the alternative path – locking in high-carbon and unsustainable development through recovery packages – through all means possible, from online activism to private diplomacy.
The calls from UN SG Antonio Guterres, and also from my co-panellist from the UK's Committee on Climate Change, outline principles for the resilient recovery. We need global solidarity in rebuilding economies and societies that are resilient against all kinds of shocks.
So COP26 and other large international climate gatherings are to be pushed into 2021, but this is a long time away. Many feel are worried, including ourselves, that momentum will be lost. Governments and businesses are putting climate action and commitments on the proverbial back-burner. How can we maintain momentum?
Whilst we do need to acknowledge that governments and people around the world are dealing with a devastating health crisis and the associated economic and social challenges, now that countries are looking to the future beyond this crisis we must advocate for climate justice and resilience against all kinds of future shocks to be at the heart of economic recovery plans.
We need to be having these conversations with people outside of the typical climate-aware circles. Recovery efforts that lock in high carbon industries will lead us into another crisis from worsened air pollution and climate change. We can highlight instances of hypocrisy and negligent planning. We can expose the precarious nature of global supply chains and how reliant all countries and people are on each other as a result. This underlines how crucial international collaboration is to tackle global crises. We can promote scientists as trusted experts that we want to listen to and demand that evidence guides policy making. Successes at COP26 will be the result of long term engagement, built on the mandate provided by a public clamouring for meaningful climate action.
You have been critical in the past about governments ambitions and plans. Madrid did not lay the foundations for a successful COP26 in Glasgow. What are the core factors that will determine if COP in 2021 will be a success?
At COP25 we saw a significant gap emerging between the negotiated outcomes of the conference and the demands from the public for increased action on the climate crisis. However, there were moments of success – the new Gender Action Plan agreed in Madrid is a significant accomplishment that strengthens gender considerations and women's participation in climate action.
At COP26, I hope to see global ambition significantly increased. The UNFCCC provides a framework for global coordination and solidarity in combatting climate change. Technicians and diplomats from around the world spend the year leading up to each COP laying the groundwork for constructive negotiations. Success will lie in the political will of individual countries moving from ambitious words and rhetoric into concrete action. The UK has a special responsibility to show leadership here as COP President, and I hope we will see a proactive, sustained and inclusive approach to organising the summit from Prime Minister Johnson and his Cabinet. I will also be following the developments on Loss and Damage and financing for adaptation. Countries around the world are enduring damage because of climate change from which they cannot bounce back. The needs of these vulnerable countries cannot be left unfunded.
---
Mary Robinson will be joining the COP26: A Decade to Deliver Virtual Panel on Thursday 14 May at 4pm BST. There is still time to join her, register now.